Game Information:
Screenshot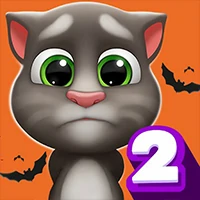 My Talking Tom 2 is a brand new version of the Tom cat series, you can interact and communicate with the little Tom cat, you can feed him food, put him to sleep, bathe him, buy him new clothes and new dress up. You can also transform into a little nurse, giving injections, medicines, massages, and tickles to sick kittens! Tom cat also has his own toys, swings, trampolines, basketballs, sandbags, etc. , everything! It also turns into an adventurer and takes you to explore the treasures of the island!
game screenshot:
My Talking Tom 2 - is a mobile app game. We gathered all the information, ratings and screenshots of this game so you could decide wether to install this app to your mobile phone or not. You can play this game on your iPhone or Android phone but you need to install it first. If you want to play this game online - you can choose the browser version and play it on any device for free without installing.
My Talking Tom 2
size: 129M
Please wait until the links are generated
Get this game
More Games:
Advertisement:
Game Comments:
Who is better?
sponge_bob
barbie