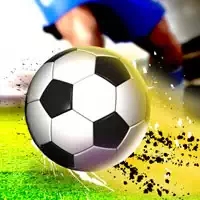 Football free online games are composed of several instances of what people call 'football': European football, which is the most common version of it and the most widespread version of football games around the world; and American football, which is considered popular only in the US and insignificantly popular in some other locations, mainly due to the enthusiasm of American football league's activists who wish to spread its popularity outside the US.

Although there are not so many well-known characters of the gaming and showbiz world in football online free games as it is in other gaming categories but they are still present. Thus, you can find here SpongeBob SquarePants, Gumball, Stickman, and Among Us. There are a lot of famous footballers here, including Ronaldo, Messi, Lewandowski, Neymar, and others. Their recognizable faces could be gamers' attraction.

In addition to football, some occasional inclusions of other sports games are here, like basketball (although basketball has its own category) or ping-pong, where a ball of the football game is used to play ping-pong on a field painted in football field's colors.

Sports action games are most widespread here. They are coupled with auxiliary football-themed games: jigsaws, paint-ups, doing tricks with a ball, and even finding the right trajectory of a ball due to various unusual obstacles, which are not common for football. The players are usually people or anthropomorphic creatures but sometimes, they are others: cars or cartoon characters.

We're sure that if you're a fan of this type of game (would it be American or European), you'll spend dozens of fine hours playing football free online games!