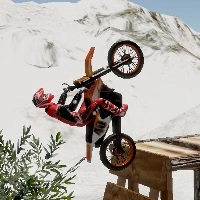 Having a motorcycle is a dream of many. If you had one, you could drive around much freer than in a car because it is more passable than a car, quite often faster, eats less gas, is more adjusted for rugged terrain, and it's cooler. But the biggest flaw of a bike is that it does not protect a rider from precipitation, wind, or dirt. Also, it cannot drive a lot of luggage or serve you as a temporary place to sleep. So it is a choice not of family people but those with free life, free spirit, and who want to travel a lot to various places fast and effective.

Since the coolest and best bikes can cost the same as great cars, many people wanting to buy one never actually buy it. But they still can drive on a bike — if they rent it, for instance, or their friend shares a bike with 'em. Or they could start playing one of our motocross free online games.

Motocross online free games presented here allow a gamer to experience such:
• drive for time or points
• make stunts
• try different terrains and surfaces: asphalt, dirt, grass, ice, snow, sand, artificial flooring, etc.
• become a hero of the day by overcoming bad guys while shooting at them or kicking them with a bicycle while riding a track
• drifting
• climbing to mountains and hills, for which purpose bikes aren't usually designed (but used).

When a gaming character is driving around on a bike, a game might also include other types of vehicles, including racing cars, which compete with the bike.

There are also additional kinds of motocross games to play online, which have a motorbike in their heart but are not connected to riding and action. These are coloring games and collecting jigsaws.

If you pick a game to play from our catalog here, you can feel the pulse of adrenaline in your veins, the buzz of action on your skin, the striving for victory, and a huge desire to become the best. That's possible and you know it! So start playing right now.