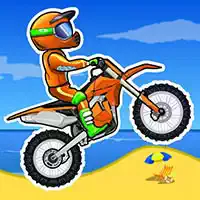 Motorbike online free games are essentially pure fun, which is composed of adrenaline, speed, and various achievements. Although the biggest part of motorbike free online games are made to show the speed that some certain model of the bike is capable of, some of them are about the process of riding per se, to reveal its physical parameters and visual perfection of the models.

Jumping across the terrain or the track is also an inherent part. There are so many tracks, where a biker needs to ride, jump, shoot, collect valuables, and watch for the time of completion if they wanna be successful.

Stunts are also important, for instance, in the game 'Xtreme Bike Stunts', where they make the heart of the gameplay. The cooler stunt you do, the more points are granted. But some stunts are done only for visual satisfaction and they can even be endless — like is the case in the 'Motocross Beach Game: Bike Stunt Racing'.

You can select a wide variety of terrains, where your bike path will progress: it can be dirt road, asphalt, sand, and even flooring or decks in the air above some land.

In addition to regular motocross and powerful bikes, you can try your skills with Tuk Tuks, which are motor rickshaws in some Asian countries (that is available in the 'Tuk Tuk Auto Rickshaw Driver: Tuk Tuk Taxi Driving' game). It can also be a super cool 4-wheel bike, which is possible to try in the variety of free motorbike games to play online, for instance, in '4x4 ATV Motorbikes For Kids' or 'Monster Trucks Game For Kids'. If you want it even cooler and with elements of spooky and eerie, then try the 'Moto 3XM Spooky Land', where the main character drives a bike made of bones and who looks like a beheaded dude with a Halloween pumpkin instead of his head.

To add more diversity, you should try such types of vehicles as tractors and trucks equipped to kill with their ladles and spikes. And, surely, as 'bike' also means a bicycle (without a motor), this category of motorbike online games also includes them.