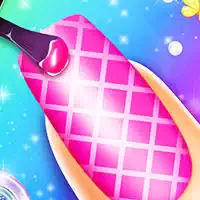 Describing nail games
The nail topic can be of two categories:
1. The one that grows on fingers and toes
2. The one like a small metal product that is hammered.
There are games for both of the described but the category 1) is far bigger widespread, completely overwhelming the second.
Such online free games are usually designed for girls-users who want to try different nail colors and polishes and are interested in the process of grooming of this part of the body in general. In addition to coloring, there may be the other grooming procedures: water, henna, sparkles application, changing the skin color, and selecting a new image under new nail style. This may sometimes be a part of a broader spectrum of grooming beauty procedures:
- hair makeup
- facial makeup
- general makeup.

The fun of free online Nail games
Games in this direction have a simple gameplay and many options to select from. Saying 'options', we mean colors and tools for nail care. Not only the nail lacquer is used, for instance, but also various trinkets like glossy objects that are either pinned or glued to the nail.
Playing such ones, a girl studies how to apply the grooming stuff, in which sequence to do it right – and this is helpful in the real life as she will be able to repeat the same afterwards.