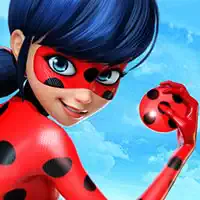 Ladybug
You must have heard about Ladybug if you live in the 21st century and do not exclude yourself from the informational space (even if you don't watch cartoons). The reason for our assuredness is that the Ladybug cartoon sees the world with so far 4 seasons having over 80 episodes, 20 minutes each, broadcasted to more than 120 countries. The show won many awards and prizes through 2016-2020 (and we're sure that more awards are pending). Also, there will be a film shot based on the characters of Ladybug, which is planned for 2021 or 2022.
Let's find out more – who Ladybug is, what is her nature, where did she come from, who are her associates, and other interesting and peculiar information about her.
Who is Ladybug and what are other characters connected to her
The Ladybug (for shortage, we'll call her in this article as Ladybug) is a character of the cartoon superhero series under the full name Miraculous: Tales of Ladybug & Cat Noir. The series was invented in France. It was conceived by a French animator Thomas Astruc about 12 years before the first series appeared on TV.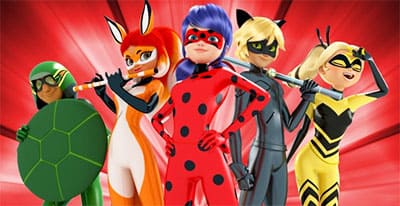 The idea came to Mr. Astruc as he met a woman with the same hairstyle as the civil looks of Ladybug A woman was wearing a T-shirt with a ladybug insect on it, which he immediately remembered and liked. They befriended each other and as a result of their creative cooperation and friendship over years, backed with the obsession of Mr. Astruc with comic books, the character of Ladybug was born.
Currently, there are 4 seasons of the show but the creators have told that they already have approval and confirmation to make seasons 5, 6, and 7.
The cartoon focuses on other characters besides the Ladybug First of them is the Cat Noir ('Black Cat' in French) a.k.a. Adrien Agreste. Other characters are Kwamis, Tikki, Plagg, Hawk Moth/Gabriel, The Mime, Mr. Pigeon, and Felix.
The Ladybug is a girl of adolescent years, who lives two lives. In the first, she is a fashion designer and goes to school. She wears regular clothes, particularly, pink trousers, a white T-shirt, and a black jacket. Her blue-colored hair is collected in a ponytail. She is bright, positive, and generally characterized by many people as awesome. At the same time, she is clumsy and it is easy for her to confuse the footsteps or words, especially when she is together with her crush, Adrien. In such moments, she becomes hilarious and can't think straight. Her real name is Marinette Dupain-Cheng and she lives in a family who owns a bakery, which was inspired by a true bakery shop in Paris. This is her civilian form and characteristic.
Her other life is the life of Ladybug, where she fights supervillains that try to attack her city at times. For that, she transforms into a superhero who wears the red-colored black-dotted costume (presumably, made of spandex, polyester, and/or latex), covering her entire body. Also, a part of her face is covered with a mask. The only thing she does not change is the hairstyle, which keeps a sort of connection between the hero girl and a regular girl. After turning into a superhero, she gains superpowers (particularly, flexibility, agility, wittiness, and strength), which help her fight crime. Thanks to her high slimness and long legs, she is able to make long jumps, do climbing, and other stunts. But she fights crime and villains not just with her powers – with the assistance of her friends and associates, too, the biggest of which is Cat Noir (for the sake of simplicity, we will call him CN).
CN is a boy of approximately the age of Ladybug and he is in a crush on Ladybug However, these two are not depicted as direct lovers because creators think that making them in love with all things going smoothly in their relations would be too simple and not tensing or entertaining for viewers. At least, no development or positive tension in their relations would be of interest through all the seasons and so many episodes. So they made their relations fun, easy, brittle, complicated, and careful, so they are able to give birth to many scenarios and feelings, causing much more interest in viewers. Also, Marinette tries to be helpful to CN in solving his life difficulties, both as a regular person and as his transformation into a superhero. Eventually, she is a lover, a friend, and a mentor to CN although he is a male character of the cartoon series, who supposes to be stronger but, actually, not.
Ladybug was largely inspired by Sailor Moon, the Japanese manga series, most powerful and famous of the kind, which spawned many following cartoons of the direction and gave birth to a large genre, which has become a huge thing not only in the country of its origin but also far beyond, embracing, factually, the entire world. A viewer can see many things in the Ladybug series that have a direct linkage to Sailor Moon:
• The civil name of Ladybug, Marinette, is translated as a 'little sailor girl'
• Main magical companions of Ladybug are reflections of SM's Artemis & Luna
• The superpowers of her main villain are similar to those that SM's supervillain Queen Beryl has.
Also, through the course of the series, many other references are found. But not just Sailor Moon was the biggest inspiration. In fact, it is one of many. Another strong influence was given to Ladybug by Spider-Man & she is like a female reflection of this character. Her color is as of ladybug insect, which is believed to bring good luck. So a CN is a natural antagonist of her. He is colored black & thus, he supposes to have superpowers, which wouldn't bring good luck but bring bad luck instead. CN's name also directly follows the people's beliefs about black cats, which bring bad luck and are believed to be frequent companions to various evil powers, from the devil to the witches. However, the creators of the show paired the two to make their powers not only uniquely working, completing, and supplementing one another when they fight the villains together. Thanks to their pairing, they are seen as a unique couple of superheroes working together all the time (not just teaming up when they have to, like other superhero films and cartoons show), and they are bond with romantic albeit complicated relations. In addition to that, CN is like a Catwoman character only male. Having CN + Ladybug in the show is like having a Spider-Man and Catwoman working together, only with inverted roles and genders, not taking into account quite different superpowers between the two couples. What's especially interesting is that CN has even more linkage to Catwoman than we've said already: they are both felines, wear black body-tight costumes to demonstrate their flexibility, they are mainly positive characters (but can be not so very positive at times, even acting as antagonists), and they both transform into regular people to merge with the crowd. Basically, creators of CN considered that Catwoman was one of underestimated comic book characters and they wanted to breathe more popularity into it, giving a tribute to her with CN character's traits.
Ladybug and other characters are made as CGI in TV series. The first episode was aired in South Korea in 2015. A month later the same year, the airing was in France. Another two months later, the airing was picked up in the US by Nickelodeon but was canceled on this channel a year later. The distribution continued within the Disney Channel. After the closure of Disney Channel due to the reorganization of the mother company, all distribution rights were transferred to Disney+, where it continues up to this day. Only 4 full-fledged seasons of Ladybug have been made so far but there will be three more seasons (officially approved by Disney in mid-2021).
The main idea of the entire show is to inspire people to turn more educated, mindful, thinking, and sophisticated. This is stimulated by the transformation of Ladybug into a superhero, when she gains special powers, helping her create various objects, which help her fight criminals. She does so using her intelligence, wittiness, and sheer mind, not clouded with limits, obstacles, and various 'I can't' ways of perceiving. She gives an astounding example of being open-minded and free-thinking. Also, she demonstrates the importance of helping others (particularly, being helpful and kind with her associates in the show), which also has to help people develop and turn kinder in real life.
Ladybug knows how to speak to the hearts of various people. Her nature, character, and image cater to broad audiences, from kids to elderly people.
The main broadcaster of the show today is Disney, acting through its branch companies in many countries. Thus, the show is translated into numerous languages but there are only three main languages of voicing: French (original), English, and Spanish. All other languages are translations or subs from one of the named.
Simple online games featuring the characters of Ladybug
The popularity of the character and its associates couldn't have gone unseen by the makers of simple online games. Today, it is possible to behold and play various games with Ladybug, CN, and other dwellers of her universe. Do not be disappointed if you only find, like, 99%+ of games only featuring Ladybug & CN (not featuring anyone other from the Ladybug's universe) since these two are heroes, on which the entire show is focused, with their relations taking over 50% of the plot and screen time.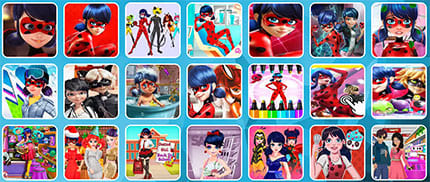 So, the simple games featuring the Ladybug and/or CN or being inspired by them are:
• Color-ups. Pick the colors and give them to your beloved characters. You will be delighted to see them in superhero poses, which are filled with physical power and elegance.
• Runners. These can be runners for time but mostly they feature obstacles to avoid and foes to overcome, whilst not forgetting to collect items and gain the score. This also includes endless runners, which are popular because they are so different with the animation style, the view of collectibles, ambiances heroes run in, and design. But mostly – with the movements of characters themselves and the buzz of testing gamer's speed of reaction, totally immersing one into the game's speed and agility.
• Maze escape. Lead a hero through levels of labyrinths, helping them reach various goals and collect items.
• Kissing. As a natural outcome of Ladybug pairing with CN, the couple is of high romantic interest to boys and girls all over the world, who want to see them kissing and hugging. Many online free games feature this possibility, especially the ones, where the couple kisses secretly, not revealing their feelings to others.
• Dress-up. She is a girl, have you noticed? So no wonder that millions of other girls around the world are excited about dressing her up in civil & superhero apparel. This type of game also offers various fashion styles to try.
• Applying glitter and other facial makeup. Her face is very pretty! So no wonder people desire to make various experiments with it, applying colors, makeup, changing the tan level, and trying on glittery decorations.
• Taking selfies. Mostly, it is about picturing her in various backgrounds, with or without various friends, including Disney princesses.
• Visiting a doctor's. This can be anything, from regular damages that she received in a fight with another villain (including bone fractures) to dealing with other medical issues, like skincare, nail problems, and others.
• Exploring pregnancy. Being pregnant is a wonderful time for every woman, which they dream of naturally because of having a desire to continue humankind. Ladybug is not seen in this role in the original cartoon series, so many people would like to explore what it's like.
• Seeing Ladybug doing everyday activities. Loads of people wish to see her doing 'normal' things as others do: reading letters, going to a sauna, meeting Christmas…
Merch inspired by Ladybug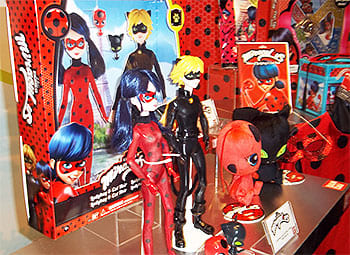 Everyone can buy official merch from the store called the Zag Store. Here, one finds the supplies for office and school, figures, dolls, figurines, jewelry, costumes, apparel, accessories, books, gifts, and sports items like branded balls.
Unofficial merch (in addition to the named) includes phone cases, boxes to store belongings, hoodies, pins and hairpins, perfumes, stickers, cloth patches, mugs, posters, cupcake dresses, notebooks, facial masks, and much more. Actually, it was hard for us to find a category of merch items, which wouldn't be possible to brand with Ladybug or CN.