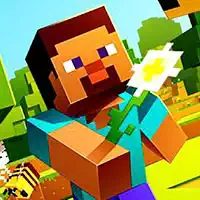 Minecraft
Minecraft is considered one of the world's most popular and sold games. Although Minecraft is generally a paid game, it is possible to experience a trial period, which depends on the platform of the user: Windows, Mac, Linux, iOS, Android, Vita, or PlayStation. This is an installable game, which is elaborated for all the named platforms, where the install pack is gotten from the official website of the game, https://www.minecraft.net.
The price of the game in full depends on the country, platform, and the kind of game being bought (there is more than 1 Minecraft as of today). The range of prices is from around 6 dollars to around 30 dollars for an initial installation of the game.
General description and history
Minecraft is defined as a sandbox multiplayer video game. It was developed by the Mojang Company. Mojang is a Swedish-based video game creating company that originated in 2009. The name from Swedish is translated as 'gadget'.
Today, its founder and president Markus Persson is one of the Swedish most affluent people thanks to the profits generated by this game and company sale. He is no longer in the charge of the company following the controversies connected to his public expressions and person, which created lots of pressure on him. Mojang was acquired by Microsoft in 2014 for 2.5 billion dollars. Today, it is owned and operated by Microsoft. In addition to Minecraft set of games, Mojang also released other games: Caller's Bane, Crown and Council, and Cobalt.
Minecraft started to be elaborated in 2009. The full release followed in 2011. As of 2021, the Minecraft is created for a large spectrum of gaming platforms: Windows, Linux, Mac, iOS, Android, ChromeOS, Netflix, Nintendo, PlayStation, Raspberry Pi, Wii, tvOS, and Xbox. The latest official release was in May 2020.
Minecraft is one of the best-selling video games on the planet, with 0.2 billion sold copies. This is surpassed only by Mario (which has over 0.6 billion sold copies) and Sonic.
The gameplay is not hard but it is challenging at times, especially depending on the mode a player uses to play. There are two basic modes:
1) Build-up things and explore the environment around, playing alone
2) Compete with computer bots and other players.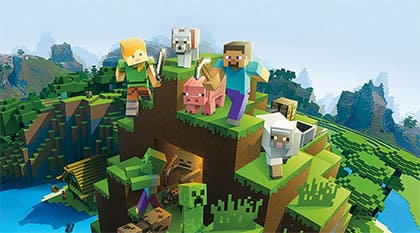 The first mode does not require any special efforts to stay alive and maintain activity, while the second requires them.
Players can explore and find building materials, create objects and structures, and dig the ground making various earthworks. Players are able to create new gaming environments through game mods creators, which significantly expand their capabilities, allowing 126 million active players to spend over a billion hours of gaming time every year.
Despite the fact that some people do not get the idea of Minecraft due to its primitivism in graphics, it is indeed the reason why Minecraft has become so widely popular. Players focus on gaming achievements and having a generally good time instead of trying to cope with fine graphics, which is resource-consuming. Thus, in the difference from other good-graphic games, Minecraft can be played even on slow PCs and other devices, which do not have to be updated in most cases to play Minecraft Also, Minecraft is understandable to children because of simple gaming objectives – that's why the biggest audience of Minecraft is children under 18 and young adults under 30.
It is one of the most critically acclaimed games of modern times, not only with many rewards but also with deep penetration into pop culture, being mentioned in books, writings, blogs, songs, films, parodies, cartoons, stand-up comedy, comic books, social media, and even in educational environments. There are numerous studies of the game, its phenomenon, and the reasons for its popularity. Also, it is one of the most money-amassing games, with over a billion dollars of gross profits made by the company-owner every year since 2017.
In addition to the official market connected to the game, there is also a black market, where gamers buy and sell rare playable things like apparel, skins, or weaponry. Some of them might cost thousands of dollars.
Upon entry to the game, players start with a computer-generated terrain, where they, depending on the game mode, fulfill various actions. Per se, there are no established gaming goals, which a gamer has to pursue, so it is generally about exploration, trying your powers in building, creating, and destroying, as it is a potentially endless game with a vast map. Players have explored the vastness of the Minecraft world and, with the help of the company-maker, it was established that its land area is 3 600 000 000 square kilometers (1 389 967 771 sq. miles) and it is 256 construction blocks from the ground to the skies. By land, it is bigger than planet Neptune, an enormously big gas giant of our Solar System. However, some gaming modes have significantly humbler sizes, like 256*256 blocks in width, length, and 60 blocks up. As it was told, users are free to create their own modes, inclusively, changing the map sizes.
While the world of Minecraft keeps developing, there are two officially discontinued games called 'Story Mode' and 'Story Mode – Season Two'.
Franchise
Minecraft has spawned a large universe (or franchise – call it as you like). There are:
• basic and additional Minecraft editions of games
• offline and off-computer games, like table games
• official spin-offs of games
• 2 films (one released in 2012, titled Minecraft: The Story of Mojang) and an untitled film planned so far for 2022
• 5 official novels (books), released through 2017 to 2021
• 2 unofficial books
• merch (we're exploring it in another section below), which generates over 700 million dollars of yearly sales since 2018
• festivals (Minecon (named by the analogy with Comic-Con), Minecraft Live, and Minecraft Festival).
Technical characteristics of the game
1. A cross-platform game available for a large range of devices.
2. Single-player and multiplayer when bought, single-player only in the try-and-buy period.
3. Divided screen for user convenience and for being informative.
4. Supports the controller and sensor management.
5. Access to the Minecraft market.
6. Downloadable content, realms, and modes.
7. A possibility to create and run separate user servers.
8. Connection to multiplayer servers of other Minecraft gamers.
9. Getting and viewing rewards and achievements.
10. Parental control can be activated.
11. Improved graphical rendering for a better performance suitable for high-pro processors.
It must be said that these are collective features, while some of them may not be present on all platforms or have only limited functionality.
Official merch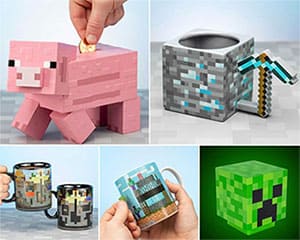 Thanks to the broad popularity of Minecraft games in the world, across practically all audiences (not just children), a buzzing range of merch is available today: clothing for children and adults, accessories (pins, lanyards, key chains, phone cases, gloves, hats, gaiters, bags, drinkware), decor for home (cube organizers, hampers, throw blankets, slumber sets, bedding, mood lights, lamps), toys (LEGO sets, figurines, Mattel sets), and books. Due to a nice coverage of the market needs with these kinds of merch, the unofficial merch repeats the named positions in its wholeness, adding only some minor things that're out of the list.
Also, there are characters of Minecraft, which have the biggest popularity in various pieces of merch: Zombie, Wolf, Wither, Steve, Skeleton, Polar Bear, Pig, Panda, Ghast, Fox, Ender Dragon, Enderman, Creeper, Chicken, Cow, Bee, and Alex. Things of merch are branded with these name characters.
Free online simple games themed with Minecraft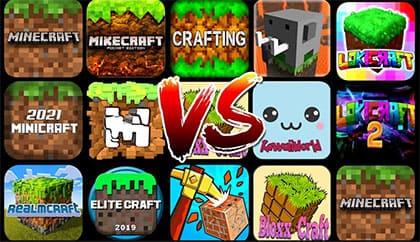 In addition to the official list of Minecraft games, there is a swarm of others, which are made by third-party companies with or without paying royalties for the usage of the theme and idea.
There are such simple online games with Minecraft theme:
• classic games, requiring individual players or as part of a multiplayer process to explore the surroundings and build/destruct/find things and objects or simply roam around.
• builders of maps. Minecraft's peculiarity is large maps and not all players are thrilled about playing in so vast spaces. Some of them would use builders to create something of their own, compact or not.
• Various survivals and escapers, including maze runners.
• Paint things up using the colors at the user's discretion.
• Find the objects hidden on the map – keys, stars, eggs, etc.
• Shoot the objects in various circumstances (rotating bull's eye, apples, through long and short distances…).
• Collecting puzzles.
• Finding the differences between pictures.
• Riding, floating, and flying various vehicles and objects.
• Run for coins, including endless runners.
• Escapers (from a volcano, an enclosed castle, or any other locations)
• Fighting zombies.
• Runners in a 3D space. While Minecraft is a genuinely many-tier game, where gamers can elevate themselves by building blocks of terrain or getting on the high objects of the map, they usually act as construction workers, stacking the block on one another. In the 3D runners, the terrain is already pre-created and players run on it, jumping from a block to block. The hardness of such games is that players can fall and crush themselves.
• Bomb the maze. It is similar to a classic game Bomber Man, completely taking its concept as the basis.
• Paintball. It is a shooter and a team game at the same time.
• Fighters. Minecraft itself has a mode of gaming, where people fight each other and for resources. So why wouldn't simple games be concentrated purely on fighting in some sort of arena? They provide faster access to the principal process – fighting, without all the auxiliary things required in original Minecraft before players actually start kicking one another.
• King of the Hill. With many alternative names of simple games on this topic, all Minecraft-themed games use the principle of this children's game: to make only one person left standing on the hilltop. This won't last long, however, as other attackers try to bring him down at all costs.
Alternative games to Minecraft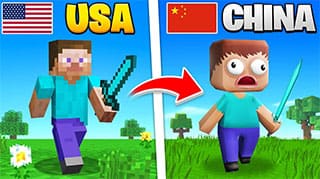 Despite the sheer opportunities that Minecraft provides to its gamers, some of them are simply tired of the same pattern, while others would like to explore something similar but not exactly such. There are many games like Minecraft, which were created to be its alternatives or supplements:
1. Minetest. A complete alternative with a full-fledged gaming process and an incredible selection of opportunities. Minecraft is considered an infinite play world but Minetest is even bigger than that, completely un-restraining. Everyone can create a mod using the API called Lua. The source code is implemented in C++. The design is nearly similar to Minecraft – square blocks and primitive graphics.
2. Terasology. This is a much more detailed game in graphic realization. Although the block style remains in general, the blocks are lesser in size and are colored more beautifully. The game has shadows and transparency of objects, which make it the most appealing Minecraft-like game so far (even the sky is wonderful!). The creation of this game is made on Apache 2.0.
3. Voxel.js. The graphics are even more primitive than in Minecraft, with objects nearly merging together because of their likeness to one another. There is no beauty in the background – just a single color. This is not so a game itself, but it is a JavaScript library to create Minecraft-like games for the browser. The engine used is Voxel (Free BSD), with a full source code given to users to work, so they are free to use any number of code lines they need.
4. TrueCraft. According to the creators of this game and creators of the official Minecraft, TrueCraft is a better version of Minecraft It is compatible with Minecraft servers. Makers of the official game are exploring technical opportunities to merge it with Minecraft in the future. The game is made on C# under an MIT license.
5. Craft. A simple name of another Minecraft option created using the Voxel engine on a C code, using OpenGL and Python, having an MIT license.
6. Freeminer is the game that continues Minetest, the game itself created based on Minecraft So, it's like a continuation of continuation. Interesting…
7. ClassiCube is in fact a nearly full clone of Minecraft written on C#. We're not sure what could be the interest of playing this game if only not the fact it is free of charge and can be installed on 5 operating systems. In addition, it is playable in a browser.