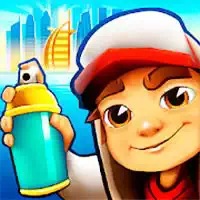 Subway Surfers
Subway Surfers are the collection of games and their periodic updates, which were initially released on the market in May 2012.
The games feature a guy named Jake, a teen of age about 10-12 years, who loves applying graffiti and thus spoils the outward appearance of subway premises. But he is an unlucky fellow, as just as he starts to apply graffiti on the walls, a security officer and his dog appear. They find what's he's doing and try to overtake him. But he evades being caught immediately, starting to run. Frequently, he uses a surfboard to glide, slide, and fly over the obstacles that are waiting for him on his path. Hence, the name. Also, Subway Surfers simply sounds better and somewhat rhymes better than if it was named differently, for instance, Subway Runners or something like that.
The goal of the game is to provide an endless running process, so the game belongs to the series of endless runners. It features a first-person or third-person look (depending on the in-game adjustments preferable to gamers). While running, Jake (or how you name him by entering a new player's name) evades various obstacles (especially moving ones and those approaching on him), can be positioned on the screen by swiping up, down, right, and left to stay alive, and collects boosters and collectibles:
• Keys
• Coins
• Multipliers of the score
• Jetpacks
• Super sneakers
• Magnets
• Power jumpers
• Mystery boxes
• Hoverboards.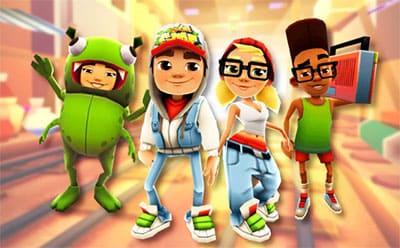 Every collectible has its own power. Keys make it possible to stay alive when Subway Surfers crashes into some obstacle. Coins are not a booster but an in-game reward for excellence (for distance coverage). Score boosters improve the received coins per given time. Jetpacks allow him to fly. Super sneakers allow super jumps. Magnets attract the coins around the running hero. Power jumpers make it possible to jump higher than usual.
When the runner is on top of some moving object, a train, mainly, he uses a gliding surfboard a.k.a. hoverboard. All boosters are limited in time of their work generally to 30 seconds, after which they lose power and/or disappear.
The in-game purchases greatly contribute to the development of the character, particularly, his appearance. It is possible to buy and unlock more characters and hoverboard styles for the coins collected. Also, the makers of the game made it possible to make purchases for real money, which are used if there is too much time required to wait to collect coins naturally or if a gamer doesn't want to wait, being too impatient. Also, some purchases are allowed by performing simple tasks, like connecting to a Facebook account.
What's frequently put as one of the Subway Surfers game's biggest pros is that it does not push the need to use real money to make purchases – it is specifically a good thing in the modern world of games-extorters. It is perfectly possible to reach any point of progress, even the highest, without spending even a single penny on the in-game purchases, which is actually super cool and greatly contributed to the popularity of this game.
The look of the game's hero
The main hero can be renamed according to the user preferences but initially is named Jake. Jake is a very slim boy with a disproportionally large head (but not disgusting, as it can sometimes be for such disproportions), pretty long legs, and large sneakers, which are larger than the ones of a usual person. His body and hands are relatively short.
He has an appealing face with brown eyebrows and head's hair, a small nose, the same brown large eyes with a shining mucous membrane (which is made so as to depict his mischievousness), and smiling lips.
He is dressed in blue jeans, a blue-and-white jean jacket, white-and-green sneakers, a baseball hat with an inscription 'Subway Surfers' or SUBSURF on its front size. A hood of the jacket covers his head, making his style recognizable. Under the jacket, there is either a red thin sweater or a T-shirt.
The guy today partners with other runners, who all have their appearance, gender, and skin color. Also, the purchased skins change the initial look of the runner, so it makes no sense to describe all of them.
The list of the running crew as of 2021 looks like this: Jake (the main character), Tricky (a girl), Fresh (a boy with a standing haircut), Yutani (a girl wearing green overalls of a frog (or is it a cockroach or some another insect?)), and many auxiliary characters (not all of them humans and some part of them are even zombies). There are even a snowman and a god of thunder among them.
Origin and history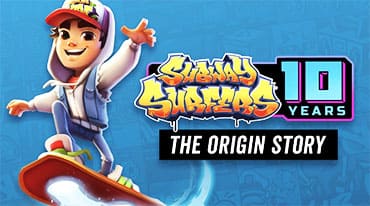 The Subway Surfers game was designed by Denmark-based companies Kiloo and SYBO Games. It was an immediate success – in just 1 week after its release, there were 3 million downloads already made, placing Subway Surfers to the #1 place by the popularity in 20 world countries. From 2012 to 2019, the game was on the lists of most downloadable games of the year, both for iOS and Android devices.
It took nearly 6 years for the Subway Surfers game to cross over 1 billion downloads but just 3 more months to cross the 2-billion download mark. As of 2021, the game has around 3 billion downloads, making it one of the most downloadable gaming apps in history. The Subway Surfers game was the first game in Google Play to ever cross a mark of 1 billion downloads. In 2021, the number of active players of Subway Surfers is over 100 million people (those who play at least once a month).
Kiloo company has other developments, not all of them successful, though. For instance, in 2003 it developed the Worms game for mobile phones, which Team17 Company made earlier for PCs. But as soon as it is a paid app, it has a significantly lower number of downloads – only above a million people have bought it. During 2006-2009, the Kiloo company was an exclusive partner for the LEGO universe of mobile games. The company's other successful games for mobile platforms are Happy Tree Friends, Bullet Time HD, and Smash Champs. Kiloo employs today over 100 employees.
SYBO Games is another Denmark-based company, founded in 2010. It holds the intellectual rights to the Subway Surfers game. After the huge popularity of Subway Surfers, it designed Subway Surfers Airtime for Snapchat in 2019. This game features a possibility to play with your friends, challenging them. SYBO Games also has released another endless runner, employing the capabilities of Subway Surfers. It's named Blades of Brim, which became the App Store choice of 2016. The main difference from the considered Subway Surfers is that Blades of Brim features magical ambiance and creatures in it, which caters to the lovers of such topic.
The idea to create Subway Surfers came into the heads of founding partners of SYBO Games in 2009 when they featured a short film about a graffiti troublemaker to the Hamburg Animation Workshop, receiving the award for the best animated short movie. The game received 9 different awards and prizes through the years of its featuring.
Usual and simple online games featuring Subway Surfers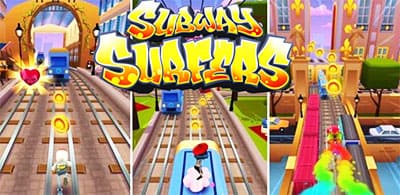 There are dozens of official and unofficial Subway Surfers games made for various platforms. While initially Subway Surfers was designed for mobile phones and tablets, most part of the online free games featuring Subway Surfers is workable for Windows and Linux because they are located on gaming websites. The supported platforms include personal computers with Windows and Linux, Android, iOS, macOS, and Kindle. The engine that is used to make an initial game is Unity, cross-platform software workable since 2005.
The Subway Surfers game has been developing with new modes and ambiances nearly since the day of its launch. Today, its periodic updates occur once in 2 or 3 weeks, changing the ambiance and outer appearances of the participating heroes. Vivid changes to the game are significantly rarer. And the principal changes actually never happen because the game already has its best or is implemented in the continuations.
As for the simple online games, which everyone on the Internet can play, they differ in types:
• Surely, running in the style of Subway Surfers is the first and foremost what Subway Surfers should do. By doing that, one will explore different cities and ambiances, not only the original subway. The cities so far we've seen in Subway Surfers simple games include New York and Saint Petersburg.
• Changing the styles, apparels, and appearances, for instance, for the holidays like Halloween, Valentine's Day, Christmas, anything else, or just for fun – to see what a hero will look like with yellow hair color, for instance
• Skating and hooliganing employing the principles of Subway Surfers
• Visiting a doctor for various topical health issues: healing bruises and wounds, improving the skin condition, healing teeth at dentist's, giving the first aid, eye care, or even doing some surgery
• Undertaking various adventures not directly connected to running and evading. For instance, visiting some place to have fun. That, as an example, can be a winter palace
• Washing clothes, face, and body, and doing some laundry – definitely, this has to happen given how active the Subway Surfers is during the running, ducking, and evading
• Finding discrepancies between the two pictures by directly looking at them or by memory
• Looking for hidden objects
• Doing some cooking, like pancakes
• Makeover to try on various styles, including very unusual ones, like tattooing or changing the gender.
Games connected to the principle of Subway Surfers
Subway Surfers has spawned many similar games, largely increasing the popularity of the category of endless runners. Thus, people can find such games today on the Internet:
• Talking Tom featuring endless running inside of the TT's main game – so the Subway Surfers becomes a sort of a small game inside of a larger one
• Tomb or temple runners – as it is obvious from the name, characters run there in the ruins of tombs and temples. Also, such games feature something that the original Subway Surfers does not have: turns of the track (find the game Tomb Temple Run to meet this feature)
• Endless runners with other characters, not connected to the ones of Subway Surfers: girls, princesses, pets, animals, superheroes, desert princes, and even ladies in short skirts on high heels
• The changed ambiances of runners, where everything looks differently: instead of the solid surface, there may be water or lava (by the way, there is a game called 'Floor is Lava', which is an implementation of the game from childhood in the combination with endless runners like Subway Surfers)
• The connection of Subway Surfers with anything other, mainly, Minecraft, insanely popular today. The main hero is a Minecraft-themed dude that runs in the Minecraft-themed world.
Subway Surfers merch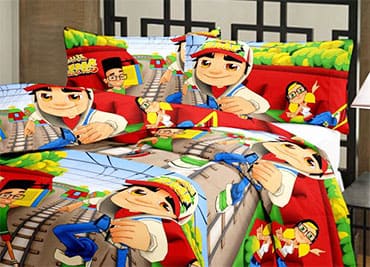 There is not so much merch exist themed with Subway Surfers as it exists for other popular characters. The reasons may include not so high popularity of the game in the world in total, Dutch game studios (which aren't based in the US, where large franchises start and untwine, growing in sizes), and that it is not present in media – nothing but 11-series animated series on YouTube channel so far.
However, merch does exist and features these items:
• T-shirts
• Footwear
• Tank tops
• Hoodies
• Sweatshirts
• Skirts
• Leggings
• Dresses
• Phone cases
• Stickers
• Wall art
• Bags and backpacks
• Accessories (water bottles, zipper pouches, facial masks, pins)
• Stationery (notebooks, postcards, journals, stickers, wraps, and holders for gadgets)
• Things for home, kitchen, and living (aprons, bath mats, bedding, clocks, coasters, jigsaw puzzles, magnets, mugs, cushions, pillows, tapestries, shower curtains & picture frames).
• Fan paintings and comic books.
The official merch is sold under a separately registered trademark named SUBSURF, which is an obvious shortage from the game's name. Love to street style, dance, hip-hop, youth, and skate are in the heart of SUBSURF TM's philosophy. Most SUBSURF merch is impossible to buy on the Internet since 2020, as they are specifically distributed through brick-and-mortar stores like Walmart.
Subway Surfers in media
As of 2021, Subway Surfers are only present officially in a short animated series on the YouTube channel. That's it. The number of episodes is 11, each lasting for 4 minutes. Thus, 44 minutes of media presence is one of the world's scarcest media presences for game heroes. If the creating companies would like to make more money on their invention, they really should try harder in popularizing it.