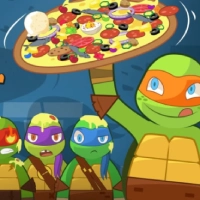 Teenage Mutant Ninja Turtles
We're here considering one of the modern pop culture phenomena that are known worldwide (except, maybe, several counties, where there is no Internet or free-formed culture). There exist hundreds of pieces of works featuring these shelled green superhero characters today, including comic books (where they originally appeared), cartoons, films, animated series & games. Let's consider these heroes closer below.
Description & history of these heroes
The year of birth of these heroes is 1984. They were conceived by two fellow comic book makers in the US, who were doing their oeuvre in the house of the father of one of them. The guys had to take a loan to publish the first edition of the comic book — and they succeeded immediately, with the entire first batch of 3 thousand copies sold in a couple of weeks. All future issues only saw increasing demand for these heroes. They came to large fame in less than 5 years from the day of appearance.
The comic books feature 6 main characters:
• 4 anthropomorphic turtles
• A rat
• A human named April O'Neil.
Depending on what version of their story our reader is acquainted with (because there are minor or bigger discrepancies among the comics, films, cartoons & TV series), the history of characters differs. The most canonical one is as follows.
These characters originated as superheroes as a result of the impact of radioactive ooze on them when they were in their regular turtle shape. They were living in a scientific laboratory back then. As a result of this event, they started to grow and change, acquiring traits of their physical bodies and mentality similar to humans. Thanks to these changes, they gained the capacity of walking on their hind legs. But that's not all — they started to walk like humans, talk like humans & think like humans. Not only had they gained the intelligence of an average person or higher but they also gained a few supernatural abilities (mostly, physical power). They were trained by their mentor Rat Splinter, which is why they are skilled in martial arts and hand-to-hand combat, being able to operate very skillfully with weaponry (each turtle has its own weaponry, which it is good at). The creators of the characters initially were aimed at the Japanese market of comic books and hence, they wanted to give Japanese names to their creations. However, they later adopted for them the names of Italian renaissance artists: Michelangelo, Donatello, Raphael & Leonardo. Although it is not immediately obvious, yet, the first letters of the names of the three latter turtle heroes incorporate the letters of the last name of their co-creator P. Laird: L, R, D. In this way, Mr. Laird obviously wanted to immortalize himself as the creator. And to make it not so obvious for everyone, the only letter — M — that's not included in his last name, was given to the fourth character to make it look that the incorporation of the three others was purely coincidental. To make the titular characters differ from one another, their designers gave them differently colored eye-and-head bandages (because different sets of weaponry did not always make it clear who is who). It is worth noting that these bandages were developed at later stages of production — only during the production of TV cartoon series, along with better character differences and skills (so, the animal characters were less distinct from one another in the first comic books).
The rat named Splinter is the sensei, guru, teacher, mentor & psychologist of the main four protagonists. His most commonly known story is that he was a pet rat of a ninja master before his transformation together with the main protagonists during the lab incident. Other versions of this story tell that he was this ninja master himself, which shapeshifted. Hence, he tries at times to return back to his previous normal look (although, he does not succeed in this task and that's why he is in a permanent state of grief, which many people perceive as the wisdom of years).
April is most frequently depicted as a newsmaker (reporter), the only significant human character in the universe. The classical depiction of her appearance is in TV cartoons and comic books, where she wears recognizable overalls of a dim yellow color (but sometimes portrayed in blue). She is witty, intelligent & courageous. She helps our positive shelled combatants in many ways, mainly, by doing tasks in the 'upper world', which the titular characters naturally can't do due to their appearance that would frighten regular people. She also loves to eat pizza with her shelled pals and frequently delivers this type of food to them, especially to celebrate the happy ending of some task they did in this or that episode of TV series or comic issue. Most often, April is shown as a lady in her mid-20s with brown or red hair of medium-to-short length, slim, sporty & pretty. Megan Fox's portrayal of her in two films is considered by fans of the turtle's world as the worst ever (mainly, because of the shallowness and arrogance of Mrs. Fox in real life and on set).
The home of the mutant animals-protagonists is the sewer system that lies under the ground level, where they live permanently because, obviously, they cannot blend with people living above the surface level. They live in New York City and fight local crime. Their archenemy is Shredder (alias of ninja Oroku Saki), whom they fight in many episodes. They also have recurring enemies and sidekicks of main and auxiliary antagonists. In their seem-to-never-end struggle, they are helped by various people and creatures, the most known of which is Casey, who is at first a love interest and then a husband of April (although, some titular characters also had a crush on her). Shredder is often helped by a mad scientist Baxter and Krang, an obnoxious-looking alien, who wants to destroy the green protagonists but, just like Shredder & other antagonists, fails every time. So our four heroes are victorious, sooner or later. Shredder is very rarely helped by his daughter Pimiko.
In addition to the main antagonists, our shelled guys frequently fight other characters, the list of which is well over a hundred as of the time being. These bad guys can be humans, humanoids, aliens & animal-based species, mutants or not. Some animal-based creatures also help the main protagonists. The list of animal species that counteract or help the titular characters in their natural, altered, or mutant form, is wide and includes jaguars, geckos, manta rays, bats, mosquitoes, other turtles, falcons, frogs, hamsters, dragons, cats, cows, warthogs, rhinoceroses, alligators, wolves, sharks, rats, komodo dragons, triceratops (dinosaur species), ducks, foxes, leeches, fireflies, hedgehogs, bison, elephants, shrews, dogs, bulls, moles, lizards, giraffes, flamingos, crabs, lions, mammoths, moose, beavers, pigeons, flying squirrels, camels, crows, owls, gorillas, lemurs, cockroaches, kangaroos & others.
In addition to male turtles, there were occasionally introduced female ones. They have mutated to become human-size basically in the same way or very similar to the main team. The first female turtle was Venus; the second one was Jennica. They did not become popular after their introduction, so the show or a comic book with their appearance was swiftly shut down or their characters were cut for good. Although the show with Venus was stopped after just 1 season, this character was reintroduced into this universe in 2022 (in a very different appearance and physique, though). This time, she was not helping the titular characters but was in the team of Punk Frogs, who are their antagonists.
Occasionally, the characters cross with other ones from other worlds & universes. The most notable of them were Batman & the Power Rangers.
The universe of these heroes & media coverage
The characters considered in this text are heroes of one of the world's biggest franchises. After they appeared in comic books, their presence swiftly grew into an entire universe, which today is comprised of:
• comic books
• TV animated series and cartoons
• films for TV, home media & big screens
• video games, some of which are positioned on our website as free-to-play online games
• toys and figurines
• merch of various kinds (branded ones inclusively)
• themed parks
• manga series
• tabletop and card games
• concept tours
• food chains and places
• fan-run websites and other brainchildren.
Pretty much every film about our characters (except for the one released in 2016) was a commercial success, easily reaching the break-even point and gathering a quick buck above this threshold. The first-ever film featuring these shelled heroes was released in 1990. Since that time, 6 more live-action or animated films were produced (the latest so far was made in 2023). What is interesting about the first films featuring these characters is that they were made using the same approach to animating the protagonists as the once-popular 'ALF' TV comedy show: the actors were wearing full-body costumes and their heads were animated using animatronics that moved their lips, noses, cheeks & eyes (for the green protagonists & rat). If our reader didn't know that — ALF is an alien who crashed into the garage of one American family, which had to hide him from other people and especially from the military. The show used a full-body costume to show Alf in full and an animatronic puppet when only the upper part of his body (with the head) was shown.
The merch number and variety (and especially toy lines) are one of the world's biggest and most successful in commercial terms. Since the launch of the toy line in the 1980s, it was expanded into thousands of items and figurines, some part of which has become collectibles (especially among teens and kids). Not only sole-universe toys were manufactured but also those that crossed with Star Trek because the toy company that produced them was the right holder for both.
Since food takes an important part in the lives of the main characters of the show and other media they're in, no wonder that at the peak of popularity of these green characters in the world (which was in the late 1990s), a number of themed foods appeared (mainly, in the US):
• cereals
• pizza
• marshmallows
• corn snacks
• vanilla pudding pies
• desserts
• pasta.
Entertainment that we have on our website of free online games
When interested players open our website with freely playable games located on this web page, they see a number of games featuring these characters. These are mostly action games, which are based on the idea and nature of the original story. The games feature:
• fights, where these shelled green creatures take part (in sewer and other locations)
• tossing the creatures (like from a cannon or something)
• doing the hack attacks (because the story about those creatures in comic books, films, or cartoons frequently includes the need for computer hacking to help the protagonists with their plans, which is done by those green shelled creatures themselves or with the help of April O'Neil because she is sometimes depicted as a person skilled in various computer programming and hacking)
• making and/or eating pizza (of course — because this is the most beloved type of food of these shelled characters)
• playing themed games, which feature this or that festivity, holiday, or event — for instance, they can collect candies and other confectionery during the trick-or-treat night on Halloween because they already 'wear proper costumes' and that's why it is the only night of the year when they can pop up from under the ground, not hiding themselves
• color-ups, finding hidden objects & other simple games that are playable without any skills by anyone interested.
We're working towards broadening the collection of our games and selecting to place on our web server those, which are proper for PCs, laptops, tablets & mobile phones. Games featuring these shelled characters also embrace other types of devices because they are produced since 1989. So, in addition to the named platforms, there are also games that were designed for very old kinds of PCs (some games are still not converted into newer platforms while others were). The complete number of platforms, for which the games with turtles were designed, is so broad that we're submitting it as a list below:
• ZX Spectrum
• Xbox
• Wii
• Nintendo
• Sega Genesis
• Sega Mega Drive
• PlayStation
• PlayChoice
• MSX
• Mobile phones
• Windows
• Kindle
• GameCube
• Game Boy
• DOS
• Commodore 64
• Atari ST
• Amstrad CPC
• Amiga.
These also include their various generations.
The first-ever game was released in 1989 and they are kept being produced (the latest so far was in 2022, as of 2023). There exist many kinds of games featuring these characters, mainly action ones. Others are puzzles, fights, sports games & adventures.
Since the broadest popularity of turtles after the USA is in Japan, no wonder that most games featuring them were produced by Japan-headquartered gaming company Konami. There exist over 60 official games and many fan-made, including ones that are playable online on any supported platform. We wish our players to have many exciting hours of fun with the games featured therein! And come back to our website more often to see what's new will have appeared.