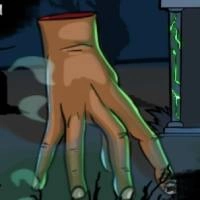 Wednesday
There was a time when The Addams Family was connected in minds of viewers with a completely different cast of actors, depicting respective roles in this dark sitcom. First were John Astin, Carolyn Jones, and Lisa Loring in the 1960s (whom nobody among people born after the 2010s knows). Then there were sparkling in their gothic ambiance Raul Julia, Anjelica Houston, Christina Ricci & Christopher Lloyd in the films of the 1990s (who are considered a classic cast but also seem too old for the Gen Z and future gens). Finally, in the last years of the 2010s, the cast of actors portraying this wonderfully insane dark-and-supernatural family consisted of Oscar Isaac, Charlize Theron, and Chloe Grace Moretz as the three main protagonists. Some of them are also 'too old' today for the next-gen viewers. Eventually, the latest so far piece of oeuvre appeared in 2022 to tremendous popularity on social media, particularly, TikTok, thanks to a more-than-dance of the main protagonist Wednesday portrayed by a rising star of Hollywood Jenna Ortega.
The history: how it started and progressed to turn into modern-time Wednesday
Wednesday Addams is a teenage girl, who lives with an extended family in their gloomy mansion. She has a father, mother, younger brothers, and various aunts, uncles, grannies, and grandpas. Some of those are constant dwellers of their mansion while others are recurring, visiting characters or those, which are only discussed and talked about but never appear in person. We cannot say that they all are 'humans' because, well, not all of their family members are classical humans. The Thing is not even a whole part of the body — it is a dismembered hand, which crawls on the surfaces using its fingers. It stays alive and self-propelling thanks to some sort of magic because — for the reason of the absence of the gastrointestinal tract, mouth, and conventional bloodstream, not to mention its brain and other functional systems of a regular body — it would and should be dead by all canons. Yet, it remains perfectly alive and mischievous through the years.
The story of the Addams family began in 1938 (when this text is being written, the Family celebrates its 85th anniversary). A cartoonist, who gave the Family its family name, Charles Addams (to commemorate or immortalize himself, obviously), started to release them as cartoon strips in The New Yorker magazine. His works were published through the 1940s and the 1950s.
In 1964, the TV live-action series started and has existed for 13 years. This adaptation seriously contributed to the fame of the characters among broad audiences. At this time, the Addams became an inherent part of everyday showbiz, significantly contributing to not only the Goth movement among the teenagers of the US and UK but also to their dark-apparel style and hairstyles, as well as other less significant attributes. There were other creations about the Addams in the 70s, including animated shows and various specials.
The 1980s were relatively dormant for the series. The first successful reboot happened in 1991 with the eponymous film (and its continuations in 1993 and 1998). There were TV reboots in the 90s, spanning through the full decade. Another reboot was in the late 2010s, this time, not a live-action but animated, which was also a nice — but not huge — commercial success.
With all that development and airing, the character of Wednesday started to become more and more prominent, gradually moving from supporting to main characters. Unlike her more flat-in-volume family members of adult and old adult ages, including mother and father, Wednesday was never a dormant one. Vice versa, she and her brother were two constantly developing characters, packed with mischievousness yet personal emotional detachment from this world. Wednesday was a successful leader in the mischievousness of her entire family. And that was one of the main reasons that the TV show Wednesday (2022) decided to focus mainly on her character, making all others only supporting ones (unlike all previous works, which explored more her parents and other adult family members, giving only a humble part of the screen time to Wednesday and her siblings).
Hiring Jenna Ortega for the role was an immediate blast of success. She melted the hearts of the purported audiences with her immaculate portrayal of Wednesday, surpassing even Christina Ricci, who was considered by millions of people and critics the best portrayal of Wednesday ever. Christina was even long ago put to place number 1 on the list of best portrayals of on-screen greatest characters in the film industry of all time by Empire film magazine. If Jenna could easily surpass Christina's wide recognition, then she must have played really well and deserves many rounds of applause.
A list of TV show characters
The characters in the Addams Family were changing over time. Although their main set remained, they were occasionally added with new people, creatures, pets, and pet plants over time. The Wednesday TV show, which was aired in November 2022 by Netflix, was not an exception: there are no characters of Grandmama and Cousin Itt (at least, in the first season) but other core ones are preserved. The show was prolonged for at least one more season but we're sure that if this show is met the same positively by focus audiences, then several more seasons are expected, even maybe shot as long as until 2030 (and Jenna Ortega will receive a significant increase to her paycheck in each season).
There are 7 main characters in the modern show:
• Father Gomez (Luis Gusman). We believe that he is not a proper choice for this show because he definitely lacks a high level of charisma, which all previous human and voice-over actors had
• Mother Morticia (Catherine Zeta-Jones, a wonderful woman and actress)
• Brother of Wednesday, Pugsley (Isaac Ordonez)
• Wednesday Addams, the main protagonist of the show and a new crush of millions of teenagers around the world (Jenna Ortega)
• Uncle Fenster (Fred Armisen). You might have seen this actor, Mr. Armisen, in many spectacular roles. But we remembered him the most as the 'Creepy Italian Guy' in the super hilarious film 'Eurotrip' of 2004, which was monstrously highly underestimated by the critics and audiences
• Thing (Victor Dorobantu), a mysteriously alive hand detached from the body, which was sent by the Family to Wednesday's school to watch after her.
In addition to the cast of her family members, Wednesday is in the society of her schoolmates, which collectively have a very significant portion of the screen time. The show, indeed, is made for teens and thus, features a lot of them. The premise of the show is a fictional Nevermore Academy, which is located in the tiny-yet-nice town of Jericho, Vermont, USA. This small town with a population of only 5 thousand souls was called after an ancient eponymous city in Palestine, which was established circa 10,000 BC, which makes it the oldest city in the world that's still preserved. This ancient city, however, is currently only 4 times more populous than its modern-day 'town bro'.
Since the school is the same supernatural as her family, various monsters and monster-like creatures study there, in a place that's the historical Alma Mater for Wednesday's mother and father. Below, we're considering some of those, who make up the everyday background of the show's story (not mentioning those, which we've already named):
• A principal of the Academy Mrs. Weems, who was in the past its student and also a roommate of Wednesday's mother. Due to the cold and distracted character of the main protagonist, which Mrs. Weems is not happy about, they periodically bicker with Wednesday. Just like the main ensemble of protagonists, there are younger and older versions of this character, which are portrayed by different people
• Dr. Kinbott, a therapist of Wednesday
• Tyler, a barista in a local coffee shop, who has a crush on Wednesday but she shows little to no interest in him
• Botany teacher Mrs. Thornhill, who is depicted by Christina Ricci (she was invited in this TV show by the producer and director Tim Burton to commemorate her original roles of Wednesday in previous films and also because she long time ago starred in Burton's film 'Sleepy Hollow' (1999) that was shot by then-successful filmmaking studio American Zoetrope)
• Lurch, the family butler, portrayed by George Burcea, who is canonically shown as a gloomy-and-loathing slow-moving tall-in-height person of the male gender. Looking at him, it is never immediately understood whether he is alive or dead (although, he is absolutely reliable and devoted to the Addams family at 150% or even more)
• Other periodic, recurring, and specially invited characters like a sheriff, his deputy, the town's mayor, the town's founding father (who should have been dead a long time ago), a mortician, and the children of some of the named, which positively or negatively interact with our main protagonist, her family, or the school she studies at.
Now, let's overview the students and their particular supernatural abilities:
• Xavier, a dude who makes his pieces of art come to life
• Anid, she-werewolf, a roommate of Wednesday who unsuccessfully tries to befriend our protagonist
• Bianca, siren
• Ajax, gorgon
• Yoko, vampire
• Rowan, telekinetic
• Eugene, bee mind controller.
Is it just us or do these guys really resemble the X-Men and their school for 'special' children? All of those guys also had abilities, which made them way different from normal 'boring' human beings. Maybe Wednesday will be a source for more young X-Men as a crossover in the future?
A list of video games, some of which are playable on our website for free
Although we do have some games that are published on our website as freely playable games, their number is not as big as we'd want it to be.
That's why we're actively working on the issue of replenishing the games to give a choice of at least several dozen games when everyone interested opens this page.
Our global strategy is to add at least one game on our website every 5 or 6 hours. This makes it possible to increase the list of games on a monthly basis by 120-150 pieces (maybe, even more).
Everything we have on web pages of free games for boys and girls is HTML-optimal and played smoothly across a multitude of platforms, would it be a smartphone, laptop, tablet, or personal computer. We support Windows, iOS, and Android operating systems (with some extra, like Linux OS).
A bit more information about the actress performing the main role
Jenna Ortega was 19 years when she was cast in the show. At the time of its release, she was 20 (she's born on September 7, 2002). Before she was cast to play the role, she had been working with Disney — following the example of hundreds of other teen stars before her, whose careers were successfully kicked off by Disney.
She had appearances in films, TV shows, and one music video by this time. By such a young age, she already has a pretty large list of awards and nominations, which makes her likely to be the next everyone's teen crush after Jennifer Lawrence (the latter became one after starring in hugely successful 'Hunger Games' films, which were aimed at a teenage audience. She's no longer a crush because she grew up and someone much younger must take this now-vacant place).
Here is a list of significant films, TV shows, and serials, where she was spotted:
TV:
• CSI: NY
• Days of Our Lives (yep, that's a true TV show, not invented by the F.R.I.E.N.D.S., which is aired and shot even in our time, and that had crossed 14,400 episodes already)
• Richie Rich
Films:
• Iron Man 3
• The Fallout
• Scream (of 2022)
• Scream IV (of 2023).
She has very much changed her screen and real-life appearance after becoming The Wednesday who had an extremely gothic and detached appearance in the TV show. She started to look more mature and less lightheaded (compared to what she did during her Disney times) and she definitely knows how to create the 'gloomy' look that she now professionally makes by looking frowningly. That look was developed by her and the filming team (especially, the director) on the first day of shooting to later become her shtick.