Game Information:
Screenshot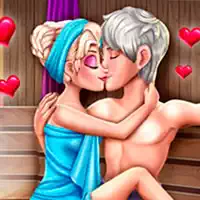 How does Elsa flirt? Find out in this free game She is a snow queen, yes she is. But she's not stiff at all, she's not cold at all, and she definitely has one of the warmest hearts only people can have. Without looking at his tremendous double transformation in the Disney movie, this game makes us all see that he is a good person, who loves to do trivial things like going to a sauna. What can be more common than going to a sauna? Just the daily work in the office. To make her days more joyful and adorable, she is in a sauna with her beloved icy-white-haired prince, who is so nice to flirt with in the steam room. First, before entering the steam room, you prepare yourself: you take a shower, shave off unnecessary hair, take a small hot bath for your legs, and change into a cozy towel for your body and hair. Then, in a steam room, they put rocks, water, and oil in the steam room. Once this is done, they can choose between three options: • kiss • say a few words (from Elsa to her lover) • and give her a shoulder massage. When the flirt progress bar reaches the maximum point, they are ready to go out and you can choose the type of outfit that Elsa will wear to go outside.
To controll Ice Queen Sauna Flirting game, use your keyboard and mouse if you play it on your Desktop. Or simply use your finger if you use your mobile phone or tablet. Ice Queen Sauna Flirting is an online game, you need to be connected to the Internet in order to play it. Ice Queen Sauna Flirting is an HTML5 game, which means that all you need is a browser of any of your devices. 100% supported devices. Ice Queen Sauna Flirting on NAJOX.com is a Free game no payment needed. To play Ice Queen Sauna Flirting right now click: PLAY THIS GAME - a green button. ENJOY NAJOX!)
Play This Game:
Ice Queen Sauna Flirting
Game Rating: 76%
Please wait until the links are generated
Get this game
More Games:
Advertisement:
Game Comments:
Who is better?
among_us
talking_tom