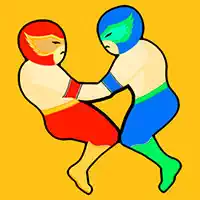 How can 2 Player games be characterized?
It is not hard to guess these games are developed specifically for two players. Unlike the multiplayer games, in which more than two can participate (and sometimes their number is hundreds or even thousands), 2-players games give the most intimacy. These are more well-balanced entertaining pieces than multiplayer ones and can be a perfect accompaniment for two, him and her, on their date. Although not the best option to spend time on a date for two hot-blooded people, online free games for two are still the possible way to get to know each other better. Playing those, you watch the person with you, studying his or her reactions, expressions, mood, character… All of that will tell you even more than the usual conversation somewhere in the coffee house.

Features of free online 2 Player games
There are no specific features of this kind of games as this is not the genre of them but just one characteristic. So these can be racing, sports, maze running, shooting, puzzle solving, and more… By the way – some of those give the nice music theme for a flip-flapping. If you know what we mean.

Online free fun with 2 Player games
My Little Pony, Pokemons, and Angry Birds are the famous characters to brighten up your pastime. However, there are much more exciting opportunities on our site in this section – just pick up and have fun.