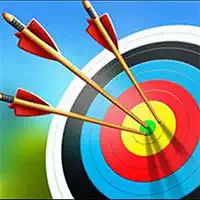 Archery appeared many thousand years ago. The first proven historical records date back to 72-60 thousand years ago (remains of bows and arrows were found in the Sibudu Cave and other sites in South Africa), which means that in these years, people invented and started using them. The word 'archery' derives from Latin 'arcus', which means 'bow'. So, the archery might otherwise be called 'bowing' if not Latin (however, 'bowing' has other meanings today). The one who shoots the bow is regularly called a bowman, archer, or shooter.

First-ever bows and arrows were used for hunting. So, it was a weapon to gain food by killing animals. For sure, they were also used to kill enemies of humans — other humans. But when this usage of bow and arrows was first used is not known for sure, the same as the fact, whether they were first used to hunt or to kill (it might be both). Today, bow and arrows are primarily used in sports (such as archer competitions) and in recreational activity (which includes various freely playable archery games).

To our vast catalog of free archery games, we have added dozens of games, where a player is able to demonstrate their skills of shooting from a bow. The biggest part of the archery online games is designed to shoot at a target (which is usually a circular plate colored in altering red-and-white circumferences or of other colors). You can also play online archery games to shoot at various enemies, like hordes of ongoing monsters or invaders while a player ought to protect his or her tower from attack waves.

Archery is also about the precise shooting, where the better you hit, the more points you receive and able to overcome your competitors or set a new high score. As for the graphics of the games contained therein, they include 3D and 2D implementations, simplistic and flamboyant designs, and various ambiances.