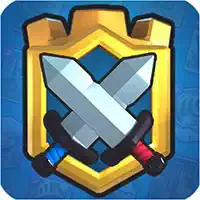 Free Arena games are those, where the main action unwraps on some kind of arena. It may be of a completely different configuration, colors, and length, even performed as a short-lived level, which iterates (such iterating levels are perfectly well shown in the game 'Rich Race 3D'). Some arenas are significantly longer, for instance, ones used for car races. You can meet one of those in the game 'Go Ramp Car Stunts 3D — Car Stunt Racing Games'.

The gaming mechanics in these arena online games are also quite diverse. That can be:
• a physical or musical/intellectual battle ('My Friend Pedro 2: Arena' or 'Party.io')
• race ('Ramp Stunt Car Racing')
• stunts ('Muddy Village Car Stunt')
• sliding ('Paper.io 2')
• arcade type of demonstrating the gaming progress ('Green and Blue Cuteman 2')
• gaining and losing something ('Stair Race 3D')
• pushing the competitors off the cliff or otherwise destructing them ('Fall Guys Multiplayer Runner')
• horror ('Poppy Horror: Chapter One')
• survival ('Zombie Outbreak Arena')
• eating objects ('Hole.io')
• snake-type ('Angry Snake')
• playing sports ('Billiard Golf' or 'Kick The Soccer Ball (Kick Ups)')
• sorting freely playable arena games ('Sort The Bubble — Puzzle Game')
• or finding objects in different circumstances ('Find Animals V').

There are multiple implementations of those games and we're sure that you can find one to your liking. Don't forget to visit the catalog once in a while to see what's new — quite possible that this new thing becomes something your favorite. We already have many various pieces to entertain you — even unusual ones, like 'Bitcoin VS Ethereum Dash Iota' — a thing that would never be possible without the occurrence of cryptocurrency and that might vanish into nothingness very soon after this flashy trend loses the interest of people.