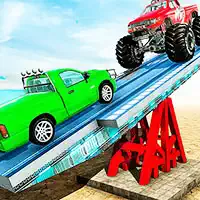 Balance is one of the very important issues in our lives. If you want to live happily, then your work shall be balanced with your personal life; entertainments have to be balanced with studying; income shall be balanced with your expenses; sports activity shall balance out the food you take, and so on. If you have enough balance in every aspect of your life, you are happy. Otherwise, you shall gain more balance to become a happier person.

In the balance free online games, the balance that you achieve during the levels, allows you to pass them successfully. Mostly, it is expressed in the right mouse/tapping actions, which move your gaming character to right/left/back/forward or make it duck/jump, and that sort of actions.

Typically, in balance free games, a player shall make sure a hero of a game completes the level by correctly guiding them through. In the case of the game 'Action Balls: Gyrosphere Race', you shall make sure your ball isn't rolling off the cliff of the level. In the 'Moto Trials Winner', your task is to make sure a motorcyclist stays on track, does not overturn or blast. In the 'High Heels — Impossible Girl Walk', the task is to pick up the high heels located here and there on the track, which are cut off by the obstacles, so a walking girl always stays above the obstacles until she walks to the end of the level.

There are many relatively simple balance games, like 'Club Sandwich', 'Hex Bomb', or 'Brick Defence'. But there are also very tough ones, where you will be restarting over and over, like the games 'Red Ball Forever 2' or 'Vex 4'.

In balance free games, you'll meet numerous heroes, which are already familiar to you (Jerry Mouse, Watergirl and Fireboy, Super Mario, or Stickman), in addition to new ones, which are created specifically for one or handful of Balance games.