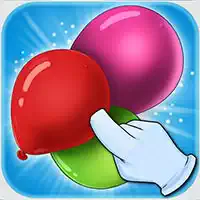 Play Balloon games now
Balloon games can be misinterpreted with bubble shooters – and there is a similarity if to put it straight. However, balloons are not the same as bubbles. The first ones are round and inflated objects that have a certain mass and that's why they obey to general gravity and air pressure physical laws. Bubbles are not.
Inflating a balloon, one can expect that it will fly. This feature is frequently used in such genre of online free games. Not only are they inflated with something easier than air, though. Sometimes they just are round and that's it. Like in 'Cut the Rope' – which is about laws of physics of heavy objects (not airy).

Free Balloon games online have something in common
o those have little mass and very often confused with bubbles that don't have a tangible mass (as a rule)
o not only they may be made of rubber but also of other materials – for instance, like an aerostat that can take people aboard
o it' not only seeing them flying but also seeing them being demolished (like pierced with a needle) – just fun to see they die out.

Balloon games we offer you here and now
"Cut the Rope" is about studying physics doing it in a fun and funny way – we're sure kids will love it. The supporting heroes here are cute little green toads. While the main hero is mechanics of moves under gravity (and some other physical issues are added either).