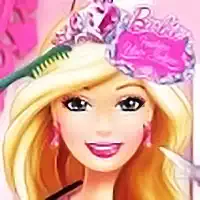 Barbie games played online for free are characterized as below
We suppose that 99% of players of Barbie games online and offline are girls. 1% may not be girls. Of course, it is possible that this estimation varies as it is only backed by our internal feeling, nothing more. The overwhelming part of those games is dressing up a protagonist or its helper + cleaning up the body (washing head/body in the bathroom), applying makeup (even such non-standard options are present as trying the army makeup on her), and cooking. The other variations may embrace:
1) Hair grooming
2) Making Barbie a bride
3) Furnishing her room (not always in repulsive pink color as there are more options)
4) Creating a perfume for her
5) Test your match with a guy based on your names (we assure you, this has nothing to do with science)
6) Cleaning up the house
7) Running a Barbie fashion store.
We wouldn't say this is a complete list as there are definitely more online free games on this topic.

We are telling you about free online Barbie games – what they have in common
- Pink. A lot of pink color. Of course, she is a girl and wears pink because of that. But in the case of Barbie doll, the cult of pink was lifted to the heights unknown before. Sometimes these games are so pinkish that it disgusts boys just from one look at the gaming ambiance
- It is almost never about a story. It is just an environment mostly limited to a single room or a small number of premises. There is no development that is classically considered so – for dressing a girl and making up her hair, you don't have to complete missions or earn points – everything required to play is already unlocked at the very beginning.