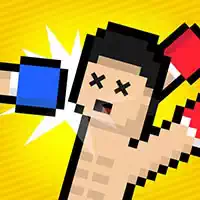 What are Boxing games?
It is quite understood from the name: these are all free online games about boxing. They will not mandatory look like Rocky style: arena or the ring with liners on the perimeter, big gloves, fight rounds, red satin trunks… But they will always include the element of boxing movements themselves. For instance, in Ben 10 Street Fight you will have to overcome monsters (of all sizes, including small and big ones). This game also shows us that boxing, according to the opinion of creators, is not always done by hands. Legs and head are used as well. Usually, one or several regular hits are enough to overcome small monsters that make 90% of the fauna of foes. While the level boss requires tens or even hundreds of hits. Player's arena, in this case, can be a linear walkthrough. So, the essence of this particular game boils down to making kickboxing motions running through the linear gameplay. While other online free games are more diverse, and we are thankful for that.

Features of online Boxing games
- lots of motions, so a player will really use his joystick
- nice 2D graphics
- a hero/antihero can be anyone – human, zombie, alien…
- boxing is not limited to boxing ring – this can be a runner with boxing moves.