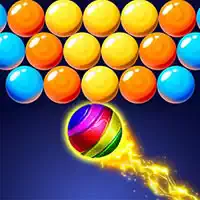 No matter how old you are and how solidly you look, we're sure that you love to pierce bubbles and air balloons. That can be practically implemented in many options (if we're speaking of an offline life):
• popping the bubble wrap with fingers just for fun or to relieve stress
• shooting into the inflated balloons with darts (that can be attached to basically any surface, where darts can hit and stick, not necessarily it should be the dartboard)
• popping the 'Pop It' toy (that's made of rubber and typically colored in different bright and happy colors)
• inflating the plastic bag with thin walls and bursting it with hands during a clap.

Shooting or blasting the bubbles is fun in so many implementations! And in pretty much all ages! This is easily possible to do virtually (but with physical and real fun!) thanks to our catalog of online bubbleshooter games to play. Around this theme, many design options have formed:
• with some particular hero/character or without
• with a static gaming field and with a dynamic one
• limited in the number of levels and endless
• where bubbleshooter online games have bubbles shaped as geometric figures, fruits/veggies, or some animated objects.

The usual gaming process and mechanics of such online bubbleshooter games to play are as follows: there is one center, which sends the shots into bubbles, forcing them to crash. These shots can damage the balls, wrecking them, or add more balls to the gaming area to fit already existing balls and kick them out of the play via forming combinations with them. No matter whether the high score is the goal or not, it is usually recorded when levels are passed successfully. But players do play for the result to pass the level, which is usually reaching the objectives of the level without being killed.