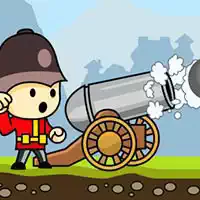 What are Cannon games?
Cannon games are those when a player uses the cannon to shoot.
Inside of this are possible options:
- a ball shot by the cannon is used to crash something down. It can be a castle or some fortress you have to make go down in only a few nice shots (and the complexity of such demolitions only grows bigger while the number of shots may become lesser)
- you may shoot to kill as well as you may shoot to organize something new (for instance, connect two jelly bubbles into one thanks to pushing shots into their bodies)
- the precision shooting. Well, cannon online free games are always about precision. The better your eye is the faster and more gaining you will reach the level's end.
There are almost endless options of what to shoot from your cannon. In fact, this may not be a cannon at all. Only remember the most famous game of this kind: Angry Birds! It is so much fun to destroy slimsy and flimsy creations of those green pigs you are deleting from the gameplay with your varied birds. And it does not use cannon – you make your shooting from a slingshot. Maybe Angry Birds is the reason of so vast popularity of cannon online free games today – as they are literally in monstrous number over the Internet.

Features of free online Cannon games
- the eye accuracy is a must
- many (if not all) such online free games are connected with physics of gravity (as there are many things, items or elements will fall down after you will have shot well) and so a player must define the best strike thinking how the construction will fall after that and where is its weak part
- in some part, it is close to bowling – and all bowling games are about gravity and nice precision in your hit.

Fun with online free Cannon games
Try 'Boom Go The Zombies' to watch they die funny, scattering their guts all over the place. Or try 'Zombo Buster Rising' to shoot never-ending hordes of undead trying to get into your house from the air and ground. 'Spy-car' is something you will definitely like if you are in love with arcades that have a car as the main acting hero. The cannon in this game is installed on top of it and it shoots around while you are roaming through levels avoiding obstacles.