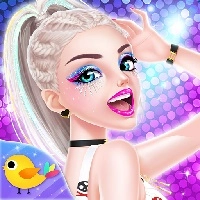 A lot of people admire celebrities. Sometimes, it feels like show business is more about the admiration of the good looks of celebs rather than seeing their work in movies, songs, albums, concerts, TV shows, or elsewhere. Indeed, many of them are amazingly cute and appealing but that's hard work to maintain that level of appearance over the years (someone last as long as decades). So if you're one of the celebs' admirers, then you definitely should start playing our online celebrity games for free, which we have in plentitude.

The most powerful show business on the planet is run in the USA. It is followed by the UK, China, India, and the European Union. It is also present in other countries (but it is not as large there as in the US). The overwhelming part of celebs has appeared exactly in the US. Even many modern technologies were developed specifically to propel show business ahead in the US — no other that powerful technological industry exists on the planet (with the exclusion of military and pharmaceutical industries). And so you could always stay tuned to your favorite characters, many freely playable celebrity games have appeared. There are also games that can be downloaded on various devices (including smartphones, laptops, and tabletop computers) but we offer you something easy, without downloading and installation that would clog up the device's memory.

We do not charge you for playing our celebrity online games so you can endlessly enjoy that experience 24/7. We also add new pieces at times to make sure you stay thrilled with the offer of your favorite celebrities from various areas of show business. Some celebs come from other fields, like science, politics, or the economy of big corporations. But these are rather rare in the entire bulkiness of freely playable celebrity games on our website.