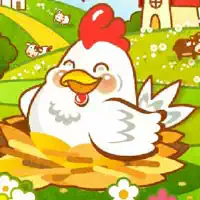 What did come first — chicken or an egg? There is a solid scientific answer! Chicken as a biological species appeared not earlier than 58,000 years ago. But the egg-laying creatures evolved much earlier: 340 million years ago. So, it makes an egg definitely much older than any chicken. But even if you consider that some dinosaurs similar to chickens have evolved somewhere around 70 or even 100 million years ago (before they all along with many other dinosaurs were killed by a Chicxulub asteroid 66 million years ago), still, the egg-laying ability evolved much earlier than the chicken-like species. The answer is resolved!

Today, people mainly consider chickens as food. Some make pets out of them (but that's a rare occasion). There are also other usages of chickens. At least, in our chicken online games, where you can make such actions with these feathered creatures:
• escape and save ('Chicken Escape' game is an example of that activity)
• jumping for a score ('Chicken Jump')
• shooting them during the frenzy, basically, for fun and for a score ('Frenzy Chicken Shooter 3D')
• going on a road of a level for a score, where a chicken-like character is a protagonist that moves ('Crossy Chicken Blood')
• coloring and painting
• making them fly, run, fall in love, become angry, find matches, look for them, and do other activities in our free chicken games.

To play chicken games for free on our website, you don't have to do any boring activities, like registering, verifying your account, downloading content or apps, paying for anything, or being restricted to only some number of games per day or week, or anything else that stupid. We offer limitless, endless, and borderless access to our catalog of fun games, where you can spend any time you want.