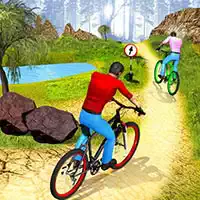 What are Cycling games?
Cycling games are about bicycles and motorbikes. The mechanics of the game is different, so is the physics. Some pieces of this subgenre have twisted understanding of physics. When you go uphill or jump over some obstacles, your bike may act itself as if not really pulled to the surface. Or it can be in the air for too long to consider it normal. But despite these shortages, bike online free games are very entertaining. They are something between the action, racing, and speed of reaction, with some little piece of planning, and a small touch of physics manifestation. At least, they all have gravity. Though variable.

Features of free online Cycling games
- you mostly travel through levels to reach either goal in time either goal in earned points, which are formed of somersaults you make in the air or thanks to enemies you crash
- some online Cycling games are about reaching the record speeds/heights/distances…
- it is 50/50 dependent on the swiftness of reaction (on obstacles/enemies/power-ups and so on) and the ability to react on gravity
- how far will you go make the most part of the entire gaming bulkiness in this subgenre.

Fun with online free Driving games
Lovers of old Pokemons shall love 'Pokemon BMX' online free game. Lovers of extreme speeds and nice long jumps must love 'BMX Ramp' and its continuation – these are famous bike oeuvres. Lovers of something non-standard may find online Stickman bike games with primitive graphics and altered physics but still fun because of their agility.