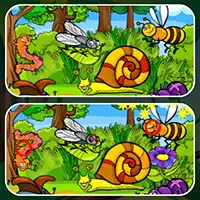 Finding the differences is always about two major things: a high degree of attentiveness and the ability to spend enough time to find them in pictures (a.k.a. perseverance). In the online differences games to play for free, a gamer is usually offered to find the differences between two or amongst several pictures, marking them with finger tapping or mouse clicking. After all the differences are found, the level of a differences online game is considered passed successfully and a player is offered to pass another one. Some simple enough games of this category only have one level in the entire game; others have many, around 10 or between 10 and 100. So, depending on how hard it is to find the discrepancies in the pictures and the number of levels, every game of that kind is passable within a different time — that can be minutes or hours.

Usually, the freely playable differences games are made for a broad number of audiences, so they aren't too hard. So, you will very unlikely be facing a situation, where you just can't find all the discrepancies. But even if you do, many games have an option of giving a hint, which simplifies the gaming process and makes you immediately show progress.

To make it more fun to play, the free differences games have many well-known characters in their gaming ambiance: Talking Tom & Talking Angela, Guardians of the Galaxy, Ben 10, Adventure Time, Pokemon, Ladybug, Dora the Explorer, Spiderman, Super Mario, Disney princesses, Minecraft, Among Us, Tom & Jerry, LOL dolls, Santa, and others. Thus, you have a large choice among the protagonists, which you adore.

It won't take much time to launch & play: simply select a game to your liking, start it, and have fun in your spare time (that can be even a minute or two).