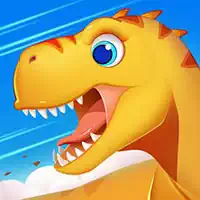 Although dinosaurs were intimidating animals in ancient times, today, not all of them are shown as such. Surely, they were creatures with sharp teeth, heavy natural armor or hard-to-bite-through skin, long claws, swift legs or extremely large body weight, it would be boring if the people, especially creators of dinosaur free online games, kept depicting them only in such a manner. So, it seems logical that many dinosaur free games have appeared, which depict dinosaurs as cute, fun, and lovely creatures to add more good vibes to their 'horrendous' reputation. That's why our Internet catalog of dinosaur games to play online includes both scary and cute dinos.

The types of actions you will be doing in the dino games include:
• excavating their bones, which have turned to stones for millions of years (those creatures became extinct about 65 million years ago, after having existed for 165 million years)
• running through levels from start to finish, avoiding various foes, obstacles, and traps
• riding cars and other vehicles, where dinos are the racers
• hunting for dinos or making a dino hunt for someone or something
• shooting at them
• collecting jigsaws with pics of dinos
• seeing them moving for the sake of exploration of their physical motions
• gathering them in a sort of a dino zoo
• having the interaction of dinosaurs and aliens, humans, or someone else
• coloring the pictures, where dinosaurs take part
• sweet tooth rushing, where the runner is a dino
• finding hidden objects.

Basically, it is hard to imagine a type of game, where a dino could not act as a protagonist. If you try to put in its place a human being, a cartoon character, or a Disney prince, things would not have changed that much. That's why they are so universal. And since they are very popular in the third decade of the 21st century, we expect much more games about dinosaurs to be added to this catalog over time.