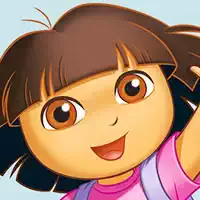 Dora the Explorer never fails to get us into the epicenter of the fun, and this time it is no exception. Her traveling adventures continue in these amusing online Dora games, where each game is an absolutely new story about our beloved characters - Dora, Boots, Swiper, Backpack, Isa the Iguana and the other friendly animals.

Fascinating Dora's world
Are you ready for some new journey into the fantasy cartoon world? We're sure you are! Free Dora games on our site reveal the hidden moments of Dora's everyday life. Before each new adventure, the brave Latina girl needs to have a new haircut, choose a trendy outfit and do some stylish manicure. She's tired of her ordinary pink T-shirt and orange shorts - Dora wants to wear some girlish dresses with flowers and frilling, and we're here to help her. We need to create her brand-new stylish outfits and help her with many other "behind the scenes" aspects of her image.

Cure and take care of Dora and her friends
Except for the dressup problems, Dora often gets hurt because of her constant sense of adventure and fearlessness. She gets bruises, splinters, and sores after each and every venture, but the girl doesn't know the first aid measures. You'll need to cure her wounds and take care of the girl if she needs so.

However, except those routine tasks, Dora still has something to amuse you. When she's out of her duty as an adventure seeker, she likes to do her hobbies, which are cooking, animal caring, flower picking, fishing, and, of course, trying new stylish outfits! Play Dora games to open a whole undiscovered world of the girl's adventures, which you won't find on the TV screen.