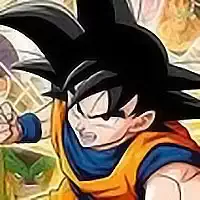 The Dragon Ball online games in our catalog are not that much about a dragon as a mythological creature but about a manga TV series of the same name, which aired in the period between 1984 and 1995 in Japan. The biggest part of our Dragon Ball online games is about the main character of the TV series and his allies/foes. You will immediately recognize that boy thanks to his sloven hairstyle, protruding into all sides. Depending on his age in a particular game (which is based on his appearance in media at a corresponding age), his hair is either black or golden.

The Dragon Ball's protagonist name is Goku (full is Son Goku) and the TV series depicts him as a boy, a teenager, and an adult man, as he grows old. The idea of the character is based on Sun Wukong (known as Monkey King in the West), who is a character from the ancient Chinese novel called the 'Journey To The West', which originated circa the year 1592. The novel itself is based on a mixture of legends, beliefs, and folklore, which were united and written as the story of the pilgrimage of a Buddhist monk named Xuanzang, who traveled from Eastern China to Central Asia and India during the period of Chinese Ming Dynasty (1368-1644). The story of his pilgrimage is a mixture of satire, comic books, situation comedy, adventures, and allegories to many things.

In the TV series, as well as in many other media pieces that are derived from it, the characters are looking for Dragon Balls, which are mystical orbs of an orange color, which are enumerated from 1 to 7 with stars. When collected together, they are able to summon a powerful dragon, who grants wishes. Needless to say that there are many other people and magical creatures who desire to receive them to make their wishes come true. That's why Goku fights many foes in the series and in the online Dragon Ball games for free that we have in our catalog.