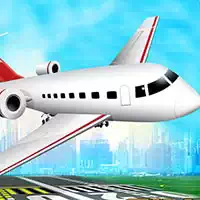 What are Flying games?
Flying games are vast. This could be anything that flies in the skies, starting from a plane and helicopter ending with a kitten on balloons or an angry bird in the space or wherever. Thus, depending on a free online game you enjoy right now, you may have different goals to achieve. For instance, if this is a simulator of speed fly like an army plane that reaches several g's of overloads on high speeds, reaching 1-2-3 speeds of sounds, your goals can be, for instance, to cover the track for the minimal shortest time. Or this can be flying some distance avoiding collision with generated obstacles to set the record or reach the end of the level. Or to shoot some amount of foes.
In addition to simple long-goers, free online flying games can be shooters as well. For instance, you are in charge of a military plane and have to destroy the enemy's base. Or to make another air assignment.
There is a type of games where you control the business, like an airport business. 'Airline Tycoon' is one of the first representatives of such games but it is mostly done for PC and is not online. However, based on it, many airport management online games and tycoon free games saw the light.
The fans of online pastime will find it amusing to play various types of hilarious games. For instance, shooting penguins up in the sky to see how far they fly. It is not much about the development of skills or something – just shooting penguins to see them fall. And set records. Instead of penguins can be any other creature but in 99% of the cases, it will be alive. Just to add ultimate sadistic fun.

Features of online Flying games
- in some part of them, a player has to think and plan. For instance, in online free development strategies
- in the other part, thinking is something completely irrelevant with pure fun coming at fore
- there are many fly simulators to learn to fly or jump over some cliffs to explore physics of gravity – this even can be making your own paper plane to see how far it'll get
- a huge part of such playthings is shooters to kill enemies.