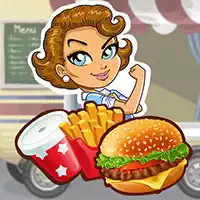 Describing online free Food games to play
Food games are mostly about making the food but also can be combined with eating it. Only eating (without making) is a rare case. Sometimes, it is even not about making but about decorating it – like it is in 'Dora Cookies Decoration'. Or trying not to spoil things like it may happen in 'Spongebob Krabby Patty Dash' – you have not only to make burgers (at level 1) but also serve beverages to the line of always hungry clients who don't want to wait long, taking their money in return.

Food games: about the features
Out of all possibilities of the genre, these can be distinguished:
- making/decorating food to be pretty
- making food to feed clients
- making food right, according to the complicated recipe in order to train yourself and learn something new in cooking.

Join us now to play fun free Food games
'Top Burger' is about making delicious burgers following the recipe of various complications. After several new levels, when a player has practiced, one is allowed to make more sophisticated burgers, with the bigger amount of ingredients, with cola added and so on. You can buy power-ups like freezing time – when customers will overwhelm you.
Making bakery is a frequent topic – and we have one of these too, 'Papa's Bakeria' – you shall love that.