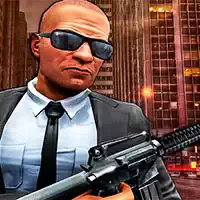 What are Gangster games?
Can you differentiate between Mafia and Gangsters? Technically, there is a big difference in the real life. But what about games? Online free games show people that gangster games are the same as mafia ones. Well, if only mafia guys wear suits while gangsters are mobsters with guns. And they shoot more than talk. Actually, when anyone talks about bank robbers in the real life, people usually imagine mobsters with atomic guns and bull-like raging faces in black cloth masks. But when someone talks about the mafia, then fancy houses and rich elegant guys eating pasta speaking about their business always comes to mind. When it comes to games, the first-described genre is likely will be an action, while the second is more like playing strategy, when thinking, not shooting, comes at fore.

Features of online Gangster games
- thinking is not the most needed in this genre, so you will rather find yourself running through the debris of levels making physical actions in order to kill hordes of bad guys. Or, if you will ever play for a mobster, you'll try to overcome police officers or superheroes running after your soul
- reaction and its speed will be largely developed playing gangster free online games
- prepare yourself for the fact that this genre embraces many superheroes (like Batman).