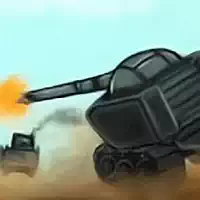 What are Gun games?
Gun games are a collective name of all games where shooting from the gun is done. The gun itself can vary devastatingly greatly. As online free games are 99% with mediocre or above-medium graphics (not going into beautiful, complicated, and resource-demanding one, unlike PC-based or PlayStation-based), painters may either make the gun the center of their oeuvre or make it a symbolic thing, just to put something in the arm of a shooter to make the narrative line ongoing. For instance, in 'Metal Animal' the main hero – a white bear – holds well-drawn bazooka in his paw, while his helpers, kitten and a dog, have only some sticks that only tentatively resemble a gun. In "Zombo Buster Rising", the hero that is standing in the distance is holding some black something, a stick that shoots. But during the closer view (in a separate window), the details of several kinds of used weapon become clear. In addition, the reel of the revolver on the screen's center is specifically highlighted to show us the loading process. So, as you can see, the graphic designers may select either side and all varieties of what's in between – it all depends on the game.
As for the vastness of genres where a gun is used – if you are a player with a solid base of many thousand spent hours in various gaming, you already know that there are no two different games with the same weapon. So far, we can tell that the types of guns are equal to a number of existing games. And what about the type of games – these are shooters, eye precision ones, hunting, killing monsters, tanks shooting, police running, and even tough baby nursing… In a word – any game that uses a gun. You know their vastness – they take maybe around two-thirds of all world games.

Features of free online Gun games
- shooting, shooting, and shooting once again – expecting to play anything else in online free games with a gun is highly unproductive
- different versions of gun – every game has its own and there are high odds that it will be more than only one type of it inside of one game
- almost no thinking is the main peculiarity of the genre – so pure joy killing your enemies is combined with brain relaxation.

Fun with online free Gun games
'Block Pixels Cop' is often met in the other genres, just because it is tagged with many tags. 'Metal Animal' represents funny fluffy killers – which makes this piece not only bloodthirsty but also amusing. There are more classical shooters: 'Strike Force Heroes' 1-2-3 that a player also meets often in the genres around on the site. Meet more names under this tag and enjoy your pastime!