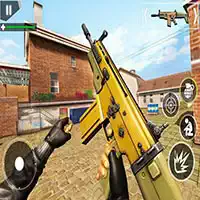 Gun shooting, the same as other kinds of shooting, is considered by many people a bad thing. The idea is that shooting is basically killing someone or something (by saying 'something', we mean live animals). Even if a man or woman practices in real life or in gun shooting games to shoot at unanimated objects, like tins, bottles, or vegetables, the goal behind that practice is that a person wants to train how to shoot swiftly and precisely to be capable of doing that when the time comes to shoot at someone or something. That is bad from the human point of view because it is killing. Someone might also call it murder.

However, the point of the gun shooting games that we have collected here is not to train to kill. We prefer gathering them holding in mind such a notion as sports shooting. Nobody has to die in this type of sport. Even when there is someone a player shoots at in the online gun shooting games, one has to remember that these are only objects in a game, which are not real, they are pieces of code and graphics.

The real things, however, are the skills that you practice while playing those games:
• speed of motions
• precision of pointing
• agility in adopting decisions about your next moves or tactical planning to pass levels
• reaction to changing circumstances (moving objects, rapidly approaching foes, etc.).

Also, playing gun shooting online free games is fun per se: you destroy some imaginary objects and receive satisfaction from the process of their discontinuation. Pure fun is cool and helpful for your mind when you shoot at some definitely harmful objects like zombies (which are often antagonists in such games). Bad objects and creatures are also encouraged to shoot at: nightmare creatures, all sorts of other undead ones but zombies, terrorists, war machines of really bad people, and so on.