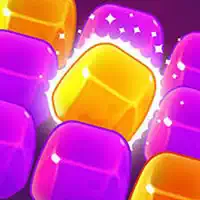 Jelly is a common name for a sweet dessert, which involves gelatin to be produced. Gelatin is able to thicken and harden within a few hours or faster and its consistency will depend on the additives, which can make it nearly flowing and very shaking (like the green character named Blobby in the animated movie 'Hotel Transylvania'). Or the jelly can become really solid to make candies that do not melt before being chewed and keep their shape even despite long transportation and storage. Sometimes, jelly also refers to fruit spreads that are sold in cans, jars, pots, or tins, and which are spread on a piece of bread (a.k.a. jam). Finally, 'jelly' is also a widespread name for a jellyfish (which is actually not a fish but it does look like a piece of translucent jelly). Given that large variety of options, we could not help but create the online jelly games to play for free.

Jelly is made in a variety of colors, tastes, and shapes, with sugar powder or other additives (even not very pleasant to the taste, like licorice or chili pepper). To make the dessert more diverse, it is often made in rainbow style, when several layers of differently colored jelly are piled on top of one another or mixed as pieces. The most common usage of jelly in the US today is as an addition to sweet sandwiches with peanut butter (although some other cultures prefer eating it without peanut butter or with cow milk butter).

Our free jelly games explore the variety of jelly makes, giving players a possibility to make it (by cooking), use a jelly character to progress through levels, shoot the jellos, match 3 or more jellies in combinations for a high score, wreak a piece of jelly to see how it explodes, merge pieces into bigger to see what happens, and do the variety of other actions. You can have tremendous fun with our freely playable jelly games!