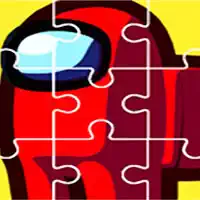 The word 'jigsaw' has two common meanings:
• a puzzle that's curvaceously cut into small pieces, which you have to attach to one another to collect a whole intended picture
• a straight saw with a fine blade that is able to cut straight or curved lines in a variety of materials, including wood, metal, plastic, and stone.

It is quite possible that puzzles were called jigsaws because of the ability of the saw to make curved cuts since it is exactly such shape the small puzzle pieces have (in their joint places, at least). So, sometimes confusion may arise out of the two different meanings of the same word: for instance, the horror movie 'Jigsaw' is about a maniac serial killer (and it is filthy to watch sometimes), not about something not such bloodthirsty. But this film is also filled with riddles and puzzles, which the protagonists have to solve in order to save themselves. So, yeah, there are cases of confusion but there is also play on words, which can be cleverly used at times.

Free jigsaw games of this catalog offer you to have fun for long hours and days, on any occasion. Unlike many other games on the website, which might have different options and kinds of games under one umbrella, jigsaw online games only have jigsaws and nothing more. It's as simple as that: the pieces of pictures, which you put together to make a whole. So, thanks to such uniformity, you'll have a lot of fun with different sets of pictures and will never be wrong when you open this or that freely playable jigsaw game.

There are many of your favorite characters and heroes on the list of freely playable jigsaw games: from cartoons, films, other games (including offline ones), TV shows, and comic books. There are also common items, like cars, robots, princesses, spirits, starships, flowers, etc.