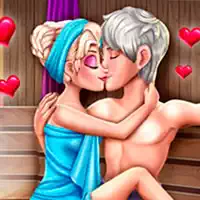 Play Love games online for free on our site
Explore different places, images, and manifestations of love as the social and human phenomenon:
- 'Halloween Girls Kissing' is about its name – see girls doing it wearing a little clothes
- 'Pamela Hot Kissing' is for those who want to see more body of fiery Pamela
- 'Ladybug Halloween Date' – sweet, a little mystical, a lot of body of Ladybug
- 'Elsa and Jack Wedding Night' – you expect more receiving disappointingly less
- 'Couples Autumn Outfits' – explore possible you in a place that resembles NYC's Central Park.

Love games and their features
Love is one of the most beloved themes of online free games to play. At least, for girls, who, unlike boys, like to create and show emotions instead of making war and killing, as boys tend to in games. Then boys grow up, still loving violence and its manifestations. But when girls grow up, they preserve the desire to create and bring new life.
So love is carefully nurtured by girls from very young age. And our games largely help in it, as they are:
- affectionate and tender
- beautiful itself but also have beautiful people/babies/animals to adore
- very so much often about kissing, falling in love, and making up.
Whatever themed, they are romantic and sweet.