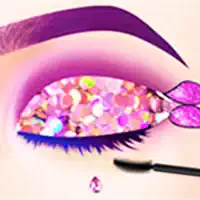 When you're doing makeup on your face, it feels so great! You can pick a zillion options of colors, tones, layers, line curves, and finish. But in reality, it is not that easy or actually feasible to try on all those combinations and options because of those natural restrictions:
• not enough time or desire to do so
• not enough materials for makeup, which you have to buy first
• that's costly to buy — and the expenses increase, as you buy more items
• you might not know what the available choice is unless you see it with your eyes in some makeup store but games already have that choice in their interface
• a person is not always knowledgeable about how to apply everything she or he has (especially given the sequence of application and what goes after what)
• the hand may be shaking.

If you have at least one of those restrictive reasons, you shall definitely play free makeup games located on our website. Here, you'll find various famous personalities and TV/film stars, including Amanda Seyfried, Baby Hazel, Snow White, Ariel, and other Disney princesses, the most popular of which are Elsa and Anna. In addition to the famous faces, there are a lot of others — but the fact that they are not known does not mean that you won't want to play them. Nearly every makeup online game has a very beautiful face, which you'll be using to apply the makeup. If you love adorably thin noses, then we suggest you work with models in these games: 'Amanda True Makeup', 'Supermodel: Fashion Stylist Dress Up Game', 'Top Model Dress Up: Model Dress Up and Makeup', or 'Rainbow Social Media Influencers'. If you're thrilled about exploring the various holiday instances of online makeup games for free, then try these: 'Bridal Makeup Salon', 'Easter Funny Makeup', or 'Halloween Princess Makeover'. You can start playing right now to use all these wonderful possibilities!