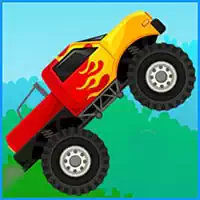 The Monster Truck category of free online games is popular because there is significant popularity of monster trucks in real life in the USA. These are giant-wheeled cars, which have a body of a jeep or regular car. Their wheels can be as huge as 2 human heights in diameter. And they are very powerful. A regular car after turning it into a monster truck must be significantly added with the engine and wheel power to maintain everything right. But a number of companies produce these cars from scratch to make them very powerful and holistic initially. A large part of such cars participates in arena shows, where monster trucks drive around, race, flip, turn, and do other stunts.

Did you know that the heaviest monster truck trick is to flip 360° to the front side (dipping the nose)? This and other stunts you'll be able to explore in our catalog, which has four dozens of Monster Truck games so far (as of July 2022) and is being replenished.

In addition to only large vehicles here, you will meet here some of your favorite characters:
• SpongeBob SquarePants
• Blaze
• Spiderman.

In most Monster Truck online free games, the gamer needs to develop a car to make it better, bigger, faster, scarier, etc. That's usually done for coins, which are gained for the completion of levels. Some games presuppose a track designed for each level, others don't have it established and so it can change occasionally, which creates a reasonable diversity.

The terrain where monster trucks drive around and do their stunts include all known road covers: asphalt, dirt, grass, ice, water, sand, snow, forest, and wood. There is not a rare opportunity to meet a combination of these or something not on the list, like garbage or car frames lying on dumps, above which your vehicle rides.

All in all, our Monster Truck free games deliver ultimate fun to all players!