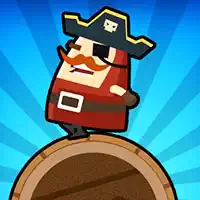 Pirates have always been and still are a very fun and amusing topic for millions of people around the world. They are oftentimes represented as heroes and they are a part of a large chunk of modern pop culture. They are very often accompanied by the striving for adventures and a surrounding romantic aura.

Surely, that's not completely true — only partially. Pirates of old times were filthy men (and very rarely, women), who were only striving for illegal earnings because of seizure of ships, trade with forbidden substances and items, drinking rum, and skirmishing. Pretty much, like modern pirates. Pirates did not refrain to fight with each other for loot but the prey of many of them throughout history was not gold, gemstones, or guns from other sea ships but incarceration and the following death penalty. Some of the captive pirates were sentenced (after being caught) to be rowers on the galleys and might serve like that for years, shackled.

But those of them who avoided such a poor destiny might become very rich (if they weren't killed during another ship assault). Although the overwhelming part of pirates (at least, regular crewmen) spent their loot on women, booze, food, and other advantages of life that can be characterized as 'live fast, burn bright, die young', a small part of those burglars really did manage to become famous and retire in their 30s, 40s, or even 50s, buy a house on some picturesque seashore and live a quiet & happy life… If the blood doesn't boil and call them back to another pirate ship in the never-ending search for prey.

These kinds of feelings you might receive with our online pirate games for free. They are able to plunge you into a hot world of adventures, where the gunshots pierce the night and gold coins are clanging as they're falling into your treasure chest. Enjoy these all freely playable pirate games and come back for more! We're sure that you will have a lot of fun when you'll play online pirate games because the fun is exactly the goal of the creation of this category!