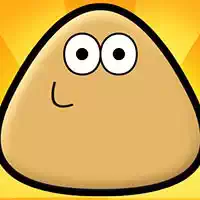 Cute extraterrestrial pet Pou is a well-known character from the self-titled Android game, where you have to look after your tamagotchi, feed, wash and dress him. Every time you open up the application, Pou devotedly waits for your care and love. But have you ever thought, what is he doing while the app is closed?..

The secrets of Pou's life
The online Pou games on skywardgames.com will reveal this secret for anyone who is searching for the answers. The truth is that Pou has his own amazing life while nobody sees him! He's like a real human being with the real human problems. He has a work and a car, visits doctors and dentists, looks after himself every morning he wakes up. Pou even has a wife and a child! Have you expected this from the small alien? We absolutely didn't.

That's why it is so fascinating to watch him in his life beyond the smartphone screen. You have a possibility to look after him just like you do in the mobile app, still, if you want to have even more fun, you can assist the alien in the bathroom, help him with the skin care, hairdressing and even choose the beard style for this brown blob. Did you know that Pou is also an amazing chef? He likes to bake, fry and boil - this time the roles have changed, and you're going to eat the cookery Pou made by himself.

His family needs your attention too!
Watch after the Pou-junior and the Pou-wife too! The female alien likes to do bright makeups, she's also the regular customer in the boutiques and beauty salons. Alien kiddo likes active games, races, and sports - you'll definitely have some great time together! Free Pou games are available for you on our site - don't make those cheerful aliens wait too much!