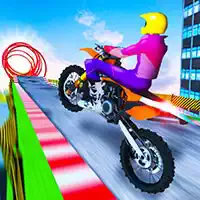 What kind of things is it possible to ride at, in, on, or with? Probably, these:
• passenger car
• truck
• bicycle
• motorcycle
• scooter
• bus
• armored vehicles
• skate
• ski
• sleigh
• train
• airplane
• submarine
• ship
• boat
• rocket
• horse and other animals
• roller skates.

Can you, after studying the catalog of our rider games online presented here, tell, which of the mentioned above are present on the list, and which are not? We're sure that pretty much everything is on but if we lack something, then be sure to write to us in the comment section and we'll work towards the inclusion of this to our catalog of rider games to play online.

Did it happen so specifically or not, but our catalog of rider online free games does not have many famous characters of pop culture. Probably, that's because famous faces are not anything gamers want here. If riding is about speed, stunts, avoiding dangers and pitfalls, then a famous face will only distract from the completion of the goal.

These games are quite dynamic and the gaming situation in the arena might change in a second. That's why it is so important to be attentive and keep up with the pace of the game to successfully play.

Here is a bit more information about the games of the catalog. In 'Rider 2', you will be riding a cool neon-illuminated motorcycle like in the Tron 2 movie (where all the essence of the movie is boiled down to cool bike riding). In the 'Quad Bike Traffic Shooting Game 2020', you ought to operate an ATV (All-Terrain Vehicle) and shoot. Along with that, you'll have to manage not to fall or bump onto some obstacle. Even more rage you will have in the game 'Bike Riders 3: Road Rage'. For a much calmer option of pastime, try playing the game called 'Surf Riders'. And to experience the visual attractiveness of horse riding, play the game 'Horse Rider'.