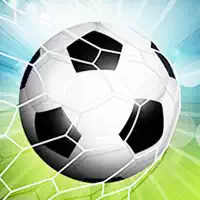 What are Soccer games?
Soccer is one the most popular sports in the world – and we're not only talking about games. Entire nations car be frenzied about this game, with literally millions and tens of millions of regular people involved in the active training process to play soccer in a free time (instead of making something good and productive) and hundreds of thousands play it on a professional level every day.
Why is it so widespread? Because you need literally nothing to play it – just grab any ball (not specifically a good one) and come out of your dwelling – on a grass, lawn, in a forest. Even on a rocky terrain or even a glacier – anything will do good enough to play it. Specifically, the ball can be made of anything – of a rock or, as it is the case in the poorest countries of the world – made of junk and covered with used clothes or low-graded rubber. A good soccer ball, however, may cost thousands of dollars and can be made of exclusive materials. As well as any other element of this game, even a piece of junk like someone's used t-shirt, can cost millions.
With so little investments in a real gaming process, it actually costs billions of dollars to play it professionally on a global scale (because it was commercialized years ago). That's why many people dream of becoming the next Cristiano Ronaldo, Messi, Zidane, Neymar or Ronaldinho – to earn as much. And if these names tell you at least anything – you definitely have to play online free soccer games trying your powers.

Features of free online Soccer games
- playing process is almost always happens in a team. But if not – and you are a standalone player – then the process may boil down to hitting the gates with a ball – which is already an eye precision stuff and rapidity of your mouse movements
- many such games are promoted by famous faces like Ronaldo or Messi – but their in-game realization can be very far from the original
- if you are a footballer, then playing those will take days of your life even if you play the simplest pieces.

Fun with online free Soccer games
'Heads Arena: Soccer All Stars Game' is about collecting all known footballers inside one shell – but the process does not really depend on this, as the playground is yours and the mechanics would not change if players weren't famous but just some dudes on a field.
'Y8 Soccer League' is about rivalry between two goalkeepers – and the mechanic is really simplified, not considering too much the gravity, the behavior of the ball when it is hit, and even the height of people (they do have only heads and feet, excluding the rest of the body, even the trunk).