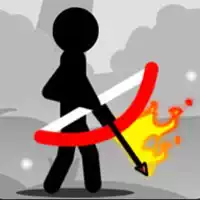 Stick free online games are usually about the Stickman character. He has a very distinctive appearance, recognizable by most modern gamers:
• black color of the body
• sphere-shaped head
• very or moderately thin extremities, belly, and neck
• usually, no expressed feet, hands, and fingers, with some rare exceptions.

After the appearance of that character in online stick games on the Internet many years ago, the idea of expanding and developing this character has been in the heads of many creators of those games. So, today, players can meet the Stickman of another color, drawn differently than slim, with elements of facial lines (eyes and others), even with hair and apparel.

The level of detailing of a hero depends on the preferences and goals of creators of stick games but, to keep it simple (and PC-friendly/mobile-friendly), he is usually depicted without many details and colors.

This category is also about a stick like a piece. Physical thing. Or an item that looks like a stick. That's why you can see here a more diverse offer of games than just having the described hero. Namely:
• stick-connected puzzles, which may be also about lines, ropes, drawings
• hangman game, when a dude is hanged if nobody guesses the word or sentence correctly
• throwing sticks like spears to hit the aim
• something connected to chopsticks, for instance, as in the game 'Chopstick Cooking'
• finding objects that resemble sticks or have a 'stick' in their names, like 'The Lost Joystick'
• simplistically-drawn games, which are only in this category because of the primitivism of their graphic design. An example of that would be 'Santa Rush', 'Magic Dot — Dancing Line', or 'Halloween Piano Tiles'.

Play for fun and stick with us for updates.