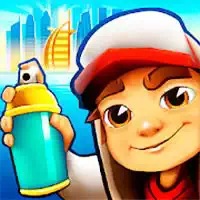 Subway Surfers: the description
'Subway Surfers' is an endless runner that has a young boy filled with vigorous and youthful energy as the protagonist. It was originally developed in 2012 but since then, many versions of it have occurred. The original story told about the adolescent hooligans (bulging out one as the main, with brown hair & pupils, and always wearing a cool baseball hat). They would run to metro city areas, tunnels, and subways to leave their naughty graffiti there, avoid being captivated. It includes the classical elements of endless tunnel runners: jumping over and dodging from objects, avoiding being captivated by the pursuers, collecting coins hanging in the air, and gathering boosting power-ups that have limited action time to improve the performance of the hero.
This idea is broadly used in other online free games of this subgenre (limitless running), including one from the universe of Talking Tom.
Since its origin, it took a habit to update the main game with seasonal themes (for instance, for Halloween, Christmas, Easter and so on). Also, other pieces derived from it and now the universe of Subway Surfers includes a bunch of non-runners:
- various medical examinations (hearing, sight, teeth examination, hand caring, and even making a surgery)
- pet subway surfers – the same idea but different implementation
- dressing up (changing clothes) and others.

Features of Subway Surfers
- a plot, whatever it is, is centered around a cute young adolescent-hooligan (and lots of people relieve stress imagining selves in the image of this animated screen hero, as they dream of becoming one – careless subway surfer, whose life is a complete adventure without those stupid money making, screaming children on hand, boring job and so on)
- there are alike games – if you don't like the original – based on derived heroes like pets, skaters, and their friends
- invigorating colors, lively music, and brisk gaming process will encourage you to play more and longer.

Play games online for free with us
We have tried to gather almost all of existing games of this kind on our free server. At least, for now, you can enjoy over 20 pieces of ones, trying yourself not only in running but also in medical stuff.