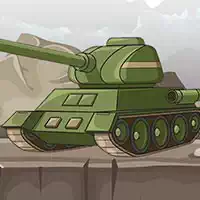 Primarily, tanks are about armor, strength, and hitting in various directions because they are war machines. But, as you know, "tank" is a word that is also used to define a capacity, which is used to pour some liquid into it, would it be water, oil, gas, or anything like this (and store it). So, in addition to war machines, this category of online tank games to play for free has the tanks to store liquids and objects within. Like water tanks for fish, a.k.a. aquariums. That's why you'll find here such free tank games as 'Fish Garden — My Aquarium', 'Fish Live Makeover', or 'Aquarium Fish Game'. In these, you'll have to deal with kinds of fishes and perform the dedicated actions:
• change the water when it's dirty
• put more objects inside to decorate the aquarium
• do the fish makeover
• help fish find some hidden objects, etc.

As for the war-associated games with tanks as armored machines, a gamer of these tank free games is able to find various implementations of gaming process: level-based and endless, with detailed graphics and not so detailed, with or without the possibility to upgrade their tank, with multiple war objects (besides tanks) or not. Surely, here you'll meet classic opportunities of battle, like a tank versus infantry or versus the undead (zombies). Or that can be a large underground worm, which fights against troopers, tanks, and flying war machines (planes, drones, and helicopters). Such games with a worm are based on long-existing legends, which various nations of the world have. In Mongolia, for instance, it is the Mongolian Death Worm, which is known under the local name Olgoi-Khorkhoi. In the US, such worms are known as Graboids, which are seen in the film series Tremors. And there is also the Sandworm, which is met in Dune books and films.

So, with this information in mind, we're totally assured you'll have plenty of finest hours playing our online tank free games.