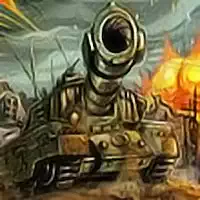 Tanks have two meanings: war machines and reservoirs that can be filled with some liquid (typically, water or oil). The first meaning of the word is quite significantly explored in these online tanks games for free: over 90% of all games here are about these dangerous and deadly machines with shooting turrets. You will also meet water tanks — for instance, in the game 'Fish Live Makeover'.

Tanks are well protected with armor and they have from no to little weak places, where they can be hit to be damaged. Although, a few modern anti-tank types of weapons have so powerful warheads that they destroy tanks with a hit in just any place, even if the armor there is super thick. Also, precision in the destruction of tanks matters: if even a weak warhead or a mine (bomb) hits the open hatch of a tank, the machine is blown up from inside. You can explore various methods of destruction while playing our free tanks games.

But, even though tanks have some downsides, they are very powerful weapons, which are still (sadly) used on battlefields on Earth. They are able to accommodate and propel a unit of soldiers, which typically consists of 3-4 people. Being covered by tank armor, more soldiers can walk in the attack, escaping the bullets of foes — around 10 or so. Because in reality, it is hard to destroy a tank, those armies tend to win, which have more tanks. But it is not a rule, you know, as it has been disproven many times already on our planet. You can feel like in combat by playing our bedazzling online tanks games for free, enjoying the endless and diversified gameplay.

Here, you'll find various types of graphical implementation of games, from high detailing to just schematic. And you shan't forget that tanks in reality are bad. Because war is bad. There is always condemnation of war and there is never a justification for it.