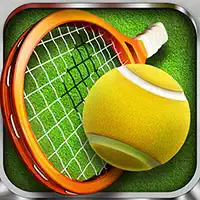 What are Tennis games?
You already know what this is about from the very name: tennis. The big one, the small one, the medium, a substandard… Okay, let's drop off all the standard variations of it from this overview (as everyone knows how to play tennis – google it if you don't) and throw words about non-standard variations.
What can possibly change, you ask, in such a simple and well-formed game that had stopped its evolution decades ago? Don't forget that this is a world of online free games – so everything is possible if the audience desires to entertain self. For instance, it can be two dudes who are hitting the ball to each other that flies on the different speeds and on not too really predicted trajectory. Or this can be something only connected to the game but now playing it: like dressing up a girl to make her have or wear tennis accessories. This can be dressing up of Anna Kournikova, other star or some unknown character, where everything can change – from the color of her hair to the way she will be dressed (or undresses to some extent if you wish it so).
The ball and tennis racquet can change as well. Instead of the ball can be anything – and even of not round shape. Like a penguin or a small animal that you will hit (fun, huh?). The court can also change, stopping being so usual. Like, for instance, you can find yourself in the space playing planets like a pinball. Or you may see some green lawn with one big tennis ball – and all you will have to do with it is trying to balance it in the air using a veeeeeery small pointer of a mouse (when it falls, you lose). Or this can be the case of trying not to surrender to the power of nature, saving your tennis ball from a blizzard, sea waves, or something similar.
Okay, what else can change? The players. They can be funny creatures or people of strange forms. Even like zombies or dwellers of the Underworld – skeletons.

Features of free online Tennis games
- the overwhelming biggest part of such games is normal, usual, representing big or table game option
- if you find the normality too boring – find the game that differs and enjoy yourself with something more fun
- as the ball is involved, you must have a good speed of reaction to play it and a nice eye precision – to hit the ball right, not just somewhere.