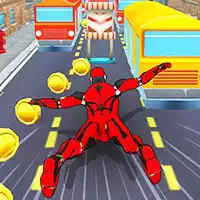 Don't be surprised to meet on this web page of freely playable train games two different instances: those games connected to railroad locomotives and those, where one has to train particular skills. That's because the word 'train' means exactly these two: cars riding on a railroad, carrying passengers, and the 'training'.

So, the training part is about any particular skills (or their combination), which a player could improve while playing free train games: agility, promptness of reaction, speed, precision, shooting, running, avoiding obstacles… Anything, basically, which composes the soft and hard skills (if you don't know, which skills are considered soft and which are hard, simply google it to grasp the meaning and differences). Shortly put, soft skills are ones connected to your cognitive abilities, intelligence, and general development (like the ability to talk and conduct negotiations) while the hard skills are pieces of specific knowledge, which are necessary for professional work (computer skills, web design, writing texts that grab the attention of large audiences, etc.).

The 'train' as vehicle part of online train games for free represents them in various situations and circumstances: for speed, for precision, for stunts, for fun, and simply for leisure. To give you a few particular examples of such online train games to play so you can promptly choose something while on this web page, we can name the following: 'Trane Snake Taxi', 'Locometry', 'Mountain Uphill Passenger Train Simulator', 'Brain Train: Railway Puzzle', 'Marvelous Hot Wheels', and 'Bus Simulator Ultimate Parking Games — Bus Games' (although the latter is not about trains, a bus is also a big thing that transports passengers, so we considered that the inclusion of it here would be logical).