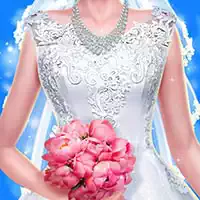 Playing Wedding online is the coolest thing every girl wants to do
This is one of the most refined and perfect genres. They are always about beauty: the nice cool dress of a bride, cool tuxedo of a groom, and the heroes you love:
- Elsa or Anna from Frozen
- Ariel (from Mermaid)
- Other variances.
Despite the fact that this segment of online free games is very fruitful and fertile, at the beginning of the 21st century, and after the emergence of Frozen, 99% of such playable games are boiled down to characters from this one, Frozen. She has become the most popular of all princesses – being the goddess of princesses if it is right to put it that way.
Apart from Frozen, it is possible to arrange a perfect wedding you've always wanted. In such one, you select everything for this festive day – starting from a kind of boutonniere that a groom will have on his wrist, ending with the color and a shape of your dress.

The highlighted features of Wedding free online games
The dress itself has become the synonym for the wedding. Despite the ceremony and everything that is around have to consider a thousand more of little and big details, all girls dream of having the best dress first and foremost. Everything other fades away when thinking about the dress – and in the night dreams of a future bride, with assuredness of 80%, she'll dream of how stunningly she will look like in it, what additional accessories she will wear – and, what's most important (and why the entire wedding is filled with sense for her at the first place) is that she dreams of how everyone present will look at her. This feeling of being in the spotlight is a desire of having 15 minutes of glory in her life, even in this way. For some, this culmination eventually stays the biggest event in their lives.

Showing you Wedding games played for free
- Practice to kiss in 'Ice Queen Wedding kiss'
- 'Frozen Wedding Ceremony' is a culmination of Elsa's life
- 'Elsa and Jack Wedding Night' is the culmination of your desires to see Elsa engaged into this with her prince
- 'Mermaid Wedding' is something that falls out of the world of Frozen.