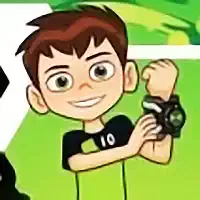 Ben 10
Ben 10 is one of the most popular characters of cartoons and games. He first appeared in 2005, so in 2021, it celebrates the 16th anniversary.
The Ben 10 was created by Man of Action Entertainment, an American collective of comic book writers. It is owned today by Cartoon Network Studios, being the most successful character of the studio.
Ben 10 is the 'superhero' name of Benjamin Kirby Tennyson, who lives with his cousin and other family members in a small American town. Being at the age of 10, he finds an alien device called Omnitrix, which contains the DNA of 10 different alien species. Thanks to Omnitrix (O.), Ben 10 is able to turn for a limited time into 10 different species, each having its unique appearance and powers. In the later series of the cartoon, O. was added with more alien DNA, so the initial number of 10 was broadened.
The design of the appearance of Ben 10 differs from series to series, and this tendency is true for games and films with Ben 10 participation. The first version of Ben 10's appearance resembled Japanese cartoons in the approach of depicting heroes but the later versions were more Americanized and the Ben 10 was deprived of some certain age or characteristics of the human body, being depicted with too thin extremities and with little details of skin, face, and apparel. It can be considered that by changing his appearance like this, creators wanted to embrace a bigger audience keeping the interest in the character in as broader ages of viewers as possible, not limiting them just to children, adolescents, and young adults.
As of the day of writing this text, there are 402 episodes of cartoon shot in 5 seasons, spanning between 2005 and 2020.
Characters of Ben 10 universe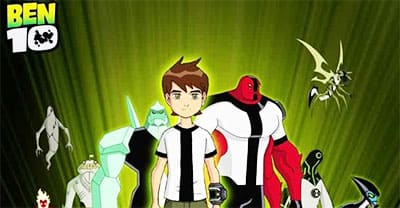 1. Benjamin "Ben" Kirby Tennyson is the main action hero of the cartoon and the rest of the franchise, appearing in every single season of cartoon series, films, games, and crossover specials. To be real and at least somewhat consistent with the course of time, as the series develops, Ben Ten grows in age although not too significantly.
2. Gwendolyn "Gwen" Tennyson, a.k.a. Lucky Girl, is the first cousin of Ben 10 and his best friend. Initially, Gwen was developed as a classmate of Ben 10 and his potential romantic interest but this idea was later abandoned, turning her into a relative and BF since during the course of development it became clear that she has to be with Ben 10 much more time than a simple girlfriend would be. She is of the same age as Ben 10 This girl is a powerful combatant together with Ben 10, as she has numerous useful skills, abilities, and high intellect. She can manipulate with mana, is very skilled in martial arts, and can turn into the so-called 'Anodite' form, where she turns purple, can fly, and becomes immortal.
3. Grandfather Max a.k.a. Magister Maxwell Tennyson. Serves as a family member, tutor, and fighter of one of the secret intergalactic organizations The Plumbers, who fight various bad guys among numerous aliens on thousands of planets.
4. Kevin Levin, a former foe of Ben 10, who then turned to be his friend. Kevin has a romantic interest in Gwen, going with her to her college as she grows and graduates from school.
Other auxiliary characters include such names as Rook Blonko, Glitch, Vilgax, Zombozo, Vulkanus, Hex, SixSix, SevenSeven, Enoch, Eon, Albedo, Maltruant, Upchuck, HeatBlast, Wildvine, Buzzshock, Ditto, and dozens of others. Some foes only have 1 appearance in the course of cartoons or films, whilst some might have more. There are also past and future manifestations of main heroes, for instance, the Future Ben, a.k.a. Ben 10,000. The Tennysons include also such people as Kenny, Carl, Sandra, and Ken Sr.
According to fan accounting, there are over 250 species participating in the universe of Ben Ten, while Anodite (of Gwen) and human of Ben 10 and his relatives make only 2 species. Some of them have nearly unpronounceable names like Ickthyperambuloid, Psycholeopterran, Gimlinopithecus, or Vaxasaurian. Most of the species not only differ with the type of body, height, weight, colors, and voice but also with abilities. And the biggest part of them is not anthropomorphic.
There are a lot of locations, where various actions happen. There are over 150 locations, with the predominant part of them being out of Earth. Even though the biggest part of locations is seen at least once during the introduction to a new location or terrain, a part of them is only mentioned or meant but not seen. Such picture-less locations make about a quarter of all.
Original cartoon series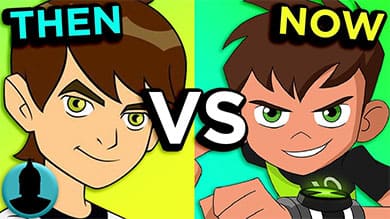 • Ben 10 (December 2005 – April 2008)
• Ben 10: Alien Force (April 2008 – March 2010)
• Ben 10: Ultimate Alien (April 2010 – March 2012)
• Ben 10: Omniverse (September 2012 – November 2014)
• Ben 10 (April 2016 – September 2020).
Logically, as the main characters were children at the beginning, they grow in age as the series progresses. But more than that, they change in appearance and it looks like the creative flow of creators doesn't stop from series to series when they do the experiments with the appearance.
Motion pictures
• Secret of the Omnitrix (animated movie), 2007
• Race Against Time, 2007
• Alien Swarm, 2009
• Destroy All Aliens (animated movie), 2012
• Versus the Universe (animated movie), 2020.
The movies together amassed 3 Daytime Emmy Awards (in 2007, 2009, and 2013), being nominated to various others, having 15 nominations in total.
The toy line

There are officially several companies that produce the toy line for Benten universe: Bandai, Playmates Toys, and LEGO. McDonald's Happy Meal also received several Ben 10 toys in 2011, depicting the colored aliens of the universe, in which Ben 10 is able to transform.
To list the form-factors of toys, they are Omnitrix-stylized wristwatch (including models with small wall projectors that show just one picture), Omnicycle, alien sets with a chamber, figures of various creatures, including the boy (about a hundred of them if not more), bucket playsets, toy guns, alien devices (like spaceships, transporters), toy vehicles, and pens.
Unofficial merch with Ben10 includes logos, posters, branded water bottles, stickers, lamps, hoodies, T-shirts, plates, mobile phone cases, plastic cups, shopping bags, thermoses, magnets, and nametags.
Comic books and other media with Ben 10
The comic book series started in 2006 and continues ever since although the comics aren't published each year.
Various TV programs for children feature Ben 10 and other creatures from his universe, being produced throughout the world. Also, there were various parody movies and participation of Ben 10 as a character in other media and cartoons, for instance, in the South Park or Robot Chicken, mainly, in the sole episodes.
Video games and simple online games with Ben 10 participation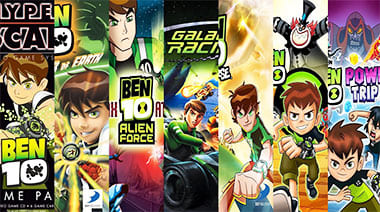 The popularity of the character could not omit the industry of video games. They started to occur in 2006 and their production is still ongoing.
Naming the official games of the Ben 10 universe, they are:
• Protector of Earth
• Alien Force
• Ultimate Alien
• Galactic Racing
• Omniverse and Omniverse 2
• All Out Attack!
• Power Trip.
These were developed for numerous platforms, such as HyperScan, Nintendo, PlayStation, Wii, Xbox, and mobile – including their versions, as the gaming consoles evolved.
There is also a game generator, using which, people can create their own games with this hero.
The list of simple games with Ben 10 character includes:
• Color-ups
• Chasers and runners for score
• Endless runners
• Shooting with balls or other objects to the distance and/or for precision
• Sports games like football
• Maze runners
• Fighters (with the monsters from his universe or someone similar to them)
• Hopping arcades
• Jigsaws
• Finding the hidden objects
• Fighting zombies
• Castle defense online free games.