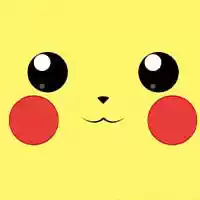 Pokemon
Pokemon is a large universe of games, featuring nearly 900 Pokemon creatures. The name is the shortage from two words, Pocket Monsters. This name is given to a game (in a wide sense of all games of Pokemon universe that exist today) and to the in-game creatures, too.
The first game was released in 1996 and the last one is planned for 2022 (but it is doubtful that it will really be the last one, as the Pokemon games are highly popular). The most popular recent game in the Pokemon universe was the Pokemon Go game in 2016 – you must remember how people have gone crazy trying to catch those tiny creatures using the augmented reality created thanks to their phones' cameras and the Internet connectivity.
The gaming process consists of catching various Pokemon and training them to then battle with other players from all over the world. During the training process, they gain various skills necessary to win and a gamer learns various strategies capable of delivering the victory.
The games are designed for a not-so-broad list of platforms, mainly, for Game Boy & Nintendo of various generations (because Nintendo is one of the creators and owners of Pokemon) but also for smartphones operating on iOS and Android.
Description of Pokemon creatures
As of June 2021, there are 898 Pokemon creatures known. They are fictional species, each differing from others with a color palette, shape, physical parameters, and – what's most important – various abilities they have.
Pokemon creatures also differ from one another with the more generalized differences:
I. Generations: I (151 species), II (100 species), III (135 species), IV (107 species), V (156 species), VI (72 species), VII (88 species), and VIII (89 species).
II. Regions they live in their fictional Pokemon world: Kanto, Johto, Hoenn, Sinnoh, Unova, Kalos, Aloha, and Galar.
III. Articles within generations – in order not to confuse our readers with a detailed review of each of 898 species, we simply offer to read about those in a fan wiki, whilst now we only tell that there are 28 articles in total. What you should know that there is only a handful of them who are really famous – like Pikachu.
Also, apart from the programmed Pokemon, there are also 'glitch' species, which are now counted for 105 units. They are a system error or glitch, which are randomly and mostly unintentionally encountered by players due to coding specificities and are only found in small gaming areas, not inhabiting the entire Pokemon kingdom. Some of them are more frequent than others and, thus, are more well-documented.
Pokemon games have inherent features, such as gyms, island trials, battles, abilities, stats, items, evolution, connectivity, mystery gifts, battle facilities, and competitions.
Pokemon brand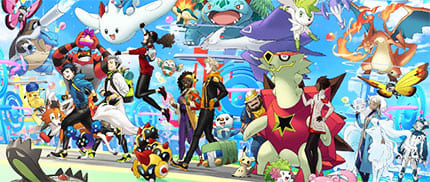 As of 2021, a large branded universe has been created around Pokemon, which includes:
• Video games, Pokemon-themed monopoly, manga games, and card games (card games were the first in this row)
• Official and unofficial simple online games
• Anime
• Motion films
• Music and soundtracks
• Currently closed Poke Park (was workable in 2005-2006 in Japan and Taiwan).
It is one of the most profitable franchises of fictional characters, which includes over 1.3 billion of sales and downloads of various games of the Pokemon universe. In the modern days, it is established that the entire franchise has grossed over 0.1 trillion dollars or $100 billion, being on top of all world's franchises, with such chasers as Hello Kitty, Vinnie the Pooh, Mickey Mouse, Star Wars, Disney princesses, and Marvel characters (although exact estimates vary widely & some sources believe that the Marvel universe should be on top of the list). Gross revenues are calculated as sums of sales of games, in-game purchases, merch, films, animated series, comic books, other books, DVDs, CDs, Blue-Rays, VHS (video cassettes), licensing, royalties, musical theaters, home entertainment, and various outdoor entertainment (some franchises may not have some of these because some objects are too old like VHS or CDs).
Pokemon Go of 2016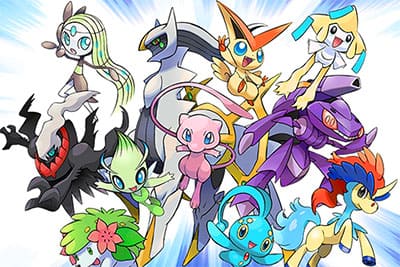 In the 2010s, people of the world have lost a fair share of interest in Pokemon universe. But things have received a huge new momentum after the Pokemon Go game was launched in 2016. By that time, most hand-held devices of users were so advanced technologically that at least half of all mobile devices of the planet could have the game installed (it required the usage of a camera, the Internet to play, and a color touchscreen to operate). Pokemon in the 'Go' game were creatures on the streets found in various locations, where people could see them through the camera as augmented reality objects. People were physically rushing here and there to catch another creature, which pretty often sparkled unwanted situations, as some people did not pay much attention to what's around them and could hit other people, cars, or objects, causing injuries, falls, or deaths. The latter were infrequent, however. Thanks to the game, loads of people started to have a much more active way of life (and some of the players have definitely lost some pounds of their weight), which is generally a good thing.
There was later a device designed called 'Go Plus', which allowed doing certain in-game actions in Pokemon Go without constantly looking at the smartphone's screen, which somewhat increased the safety of the game. The game was available in most parts of the world (but China, some parts of Africa, and the poles), gradually embracing country by country from 2016 to 2018 (the first ones were the US, New Zealand, and Australia, the last was Russia). Pokemon Go earned over $5 billion in direct revenues.
Online free games with Pokemon theme or characters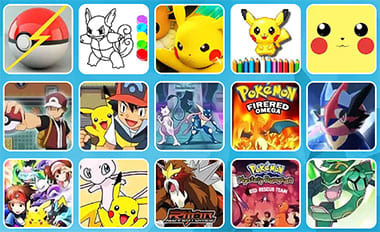 • Classic games, which require to grow a Pokemon character and fight it with others
• Find differences between pictures
• Color-up the Pokemon heroes or ambiances
• Search for hidden objects and numbers in pictures
• Level runners, jumpers, maze runners, vehicle riders (bikes, cars…)
• Tower defense games
• Taking part in games with other characters, like Mario, Sonic, SpongeBob, Frozen characters, My Little Pony…
• Pure fighters, where Pokemon characters are already evolved creatures and you just pick one for a current fight
• Flying on their own or taking some aircraft to pass through the level intact
• Tetris-like games (a.k.a. brick builders) or brick destroyers
• Escaping and rescuing the characters from some entrapment
• Shooters (into objects and into Pokemon themselves)
• Pokemon as part of daily professions or activities – like Pokemon in an ice cream shop
• Doing various sports activities, like skiing or playing soccer
• Dress-ups for Pokemon and people of their universe or out of one (including cosplay online free games)
• Guessing a Pokemon based on its shape (games only for experts in the Pokemon universe)
• Various tile and card games themed as Pokemon
• Jumpers for height (the higher you can reach the better).